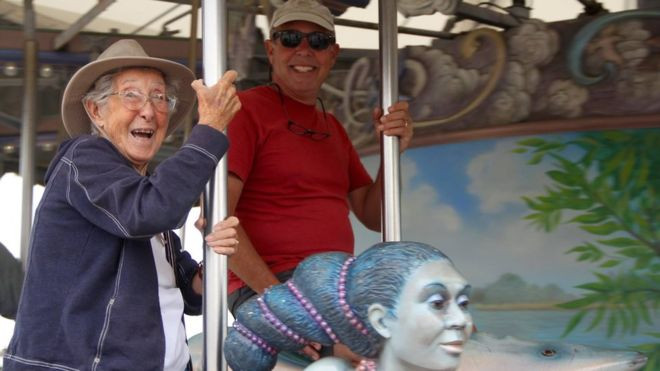 Tributes have been paid to a 90-year-old grandmother who refused treatment for her terminal cancer and instead used her time left to travel 13,000 miles across the US with her son and daughter-in-law.
Norma Bauerschmidt became an internet sensation when her Facebook page Driving Miss Norma clocked up more than 440,000 followers.
In July 2015, Bauerschmidt's doctors discovered that she had stage four uterine cancer after a routine scan, two days after the death of Leo, her husband of 67 years.
Ramie Liddle, her daughter-in-law said: "Tim and I had lived on the road for a couple of years, and when her husband passed we did what all families do and invited her to live with us.
"She thought about it for about a minute-and-a-half and said, 'Yes'. She was ready for an adventure."
"One of the first things we did was buy a wheelchair for her, and that was her ticket to freedom," said Liddle. "From that point on, we could go out and about on outings or do whatever she wanted."
Her Facebook page Driving Miss Norma - which detailed her adventures on the road - was to keep relatives informed of their whereabouts as they travelled the United States in a motorhome. "It was just so my family would know where we were, but Norma was absolutely shocked when it took off," Liddle said.
Bauerschmidt's bucket list included seeing killer whales, riding in a St Patrick's Day Parade, attending an NBA game as VIP guests, eating lobster and Key lime pie and a hot-air balloon ride.
Bauerschmidt spent just over a year on the road before she died on Friday 30 September in her motorhome, according to the Pittsburgh Post-Gazette. After her death, her son posted a quote from 13th-century poet Rumi: "Life is a balance between holding on and letting go", adding: "Today we are letting go."
The post received over 2.3 million page views and more than 30,000 had posted comments. "I think we've given people permission to talk — to think outside of the box — on these things," said Ramie.