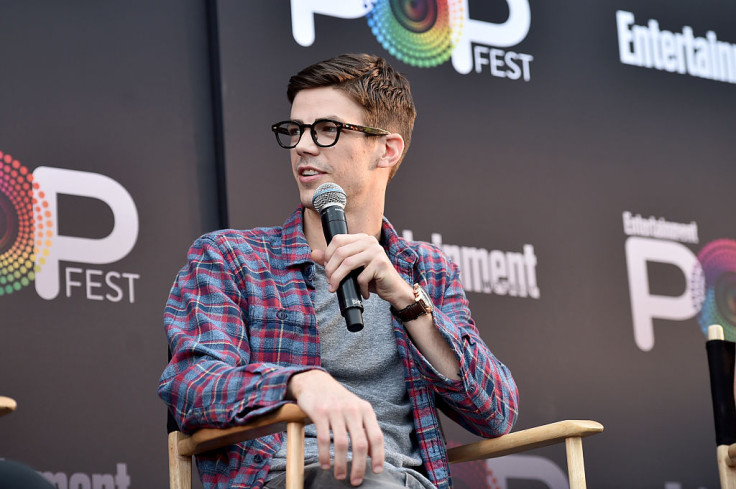 The Flash actor Grant Gustin won the Choice Action TV Actor award at the Teen Choice Awards held on Sunday (13 August) in Los Angeles and took to social media to pen a thank you note,
Sharing a picture of himself accepting the award on Instagram, he wrote, "Thank you to everyone that voted for myself & @cwtheflash for the dope Teen Choice Awards. The whole cast and crew deserve a surfboard. 1 for everyone."
He also congratulated co-star Melissa Benoist (who plays Kara Danvers in Supergirl) for winning the Choice Action TV Actress award at the event. The 27-year-old actor wrote, "Congrats to my buddy @melissabenoist too!!"
He concluded by mentioning his fiancée LA Thoma, "And I snuck @lathoma3 in here because I like her face and she makes every award thingy more fun."
Gustin has won the Choice awards against fellow The CW stars Stephen Amell and Chris Wood, as well as Agents of S.H.I.E.L.D.star Gabriel Luna. This is the second year in a row that Gustin has taken home the unique surf board award for his role as The Flash in The CW series.
Previously, Gustin revealed that season 4 of The Flash will take cues from DC's Rebirth comic book issue. He told ComicBook.com, "It's almost like a fresh start for me as an actor this year. The first episode is called 'Reborn' and it's our take on Rebirth."
He continued, "It gives me an opportunity to let go of all the weight that we've built up and have held onto and there's even some lines that reflect that for Barry, that he's been able to cope an move on in a way he was never able to in the past
"So it gives me an opportunity to let go and have more of that kind of fun that we had initially in season one," the actor said teasing the upcoming season.
The Flash season 4 premieres on Tuesday, 10 October, at 8pm EST on The CW Network.