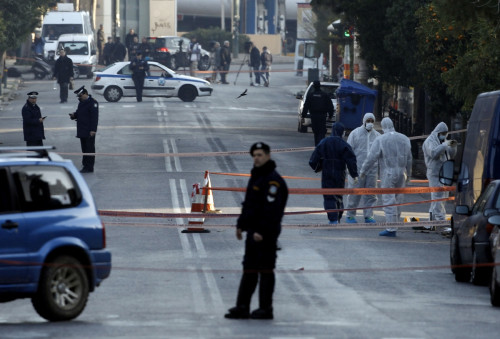 Gunmen have opened fire on the German embassy in Athens, in what the Greek government described as a terrorist attack aimed at damaging its image abroad.
The steel gate of the diplomatic compound in Athens' Halandri district was left riddled with bullets from two AK-47 assault rifles. Police said they found more than 60 bullet casings at the scene.
No one was injured in the attack, which occurred just before dawn.
Police, who cordoned off the area would not say whether ambassador Wolfgang Dold, a 55-year-old father-of-three, was at the premises when the shooting occurred.
Dold thanked the Greek government for the police's "swift response."
"To those responsible for this action, I state it will not affect the close and friendly relations between our two countries and it will not reverse the country's economic recovery," he said.
No group immediately claimed responsibility for the attack. Six people were held for questioning but were later released without charge.
Prime Minister Antonis Samaras telephoned German Chancellor Angela Merkel and both governments condemned the attack.
"The Greek government expresses its outrage and outright condemnation of today's cowardly terrorist action which had the only apparent and objective of [damaging] Greece's image abroad ... The perpetrators will soon be brought to justice," a Foreign Ministry spokesperson said.
Greece is about to take over the EU presidency for a semester.