The Greek football leagues have been left in disarray after all professional games were suspended following Friday's savage assault on a Greek referee committee member.
Christoforos Zografou suffered serious head and arm injuries when he was attacked by two men armed with wooden clubs. Zografou was transported to Athens hospital, where he is reportedly in a serious condition.
The attack took place ouside Zografou's home on Friday morning in the western Kolonos area of Athens. The attackers escaped on a motorbike and their identity is currently unknown.
The news comes after it was revealed ex-Scottish referee, Hugh Dallas, now the president of the Greek football Federation's Committee of Referees, received death threats on Friday.
Dallas, who was only appointed this year, is now considering his position, fearing for his family's safety.
News of Dallas' possible departure would be a serious blow to Greek football. Greek clubs had been desperately trying to encourage foreign officials to join the referee committee following a spate of embarrassing match fixing scandals in the past couple of seasons.
Speaking to Greek television ahead of Greece's important Euro 2016 qualifier against the Faores Island, Giorgios Sarris, the federation president, described the assault on Zografou as a "murderous attack".
The federation has insisted that their decision to indefinitely suspend Greek professional was being done "to protect those involved, in any capacity, in Greek football".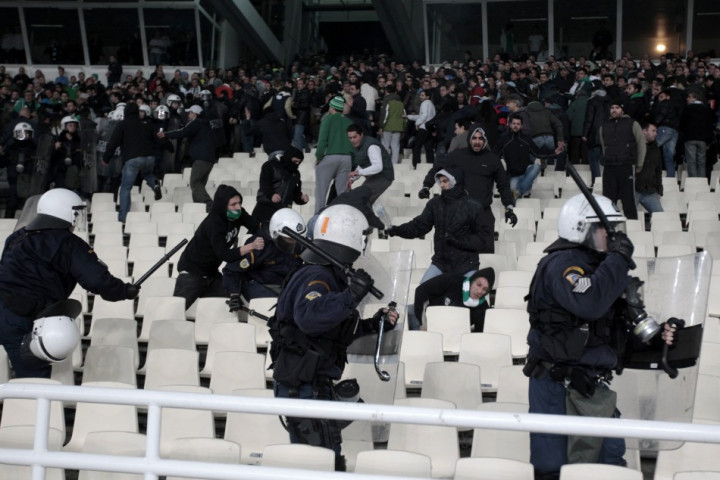 The president of top flight giants Olympiakos, Evangelos Marinkis, urged the police to fully investigate the attack: "we must all work together to stop this filth".
Marinkis called on all people involved in Greek football to make a stand against violence: "All of this is highly unacceptable and it will not be long before we find it in front of us in a few months in the Super League – that's why we have an obligation to denounce it and end it here."
"We are talking about human lives here, it's no longer about an insult, or bitter comments which are said on the radio or television in the heat of the moment; we are talking about a murderous attack on the man that is very lucky to be alive."
This is the second time this season that football matches have been suspended. In September, all matches were halted for week after a fan was suffered appalling injuries at the hands of a gang during a third division match. Kostas Katsoulis, 46, later died from their injuries.
This is the third attack on a referee in Greece in the last two years.