At least 24 suicide attempts have been made by survivors and witnesses of the Grenfell Tower fire, according to volunteers.
The report comes as it has emerged that 101 households of the North Kensington block remain homeless and living in hotels and other temporary accommodations. The blaze, which left 71 people dead, has traumatised those who survived, with as many as 24 people attempting suicide, community volunteers said.
Alex Adewunmi, 47, an assistant at the Christian Tabernacle Centre, which was among the first places to offer help the morning of the fire, accused the Government of not treating people fairly.
"There have been 24 suicide attempts since the fire," Adewunmi told The Mirror. "People here are angry and struggling to cope. They're suffering from Post Traumatic Stress Disorder (PTSD).
"The Government is not treating them fairly and the council are not doing as much as they should. They're not filling people's needs and they don't care. We've had to fill the void. It's madness."
Adewunmi said the centre had 125 families on their books in total, adding they were eager to see them get "justice".
"Survivors are being offered homes that are not suitable and being told 'take it or leave it' by the local borough, even though it has £400m in reserve," he added.
Kensington and Chelsea Council confirmed 101 households, including 17 families with 34 children have not yet been homed. The council previously noted that more than 800 people had been seen by a local response team and that NHS health professionals had spoken to 700 people at Notting Hill Carnival.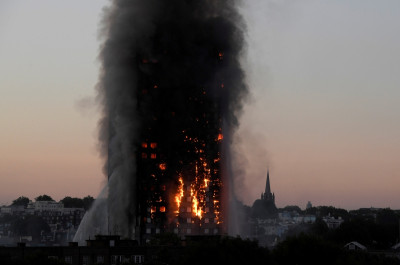 Council figures show that screening for post-traumatic stress disorder has been provided to 330 people so far, with 66% of those being referred for treatment.
In September, Dr Alastair Bailey, clinical lead for Central and North West London NHS Foundation Trust's Take Time to Talk Service, told the BBC: "It's important that people know we are here to listen to anyone struggling with painful feelings, such as despair, guilt or hopelessness, following the trauma of these events."
Bailey said people could reach out to local faith-based groups, as well as the Samaritans for any emotional help.
More than 100 survivors attended a Christmas dinner on Friday (22 December), The Mirror reported. They were treated with songs performed by local children and a Santa, with a live reindeer, handed out gifts. The dinner was co-coordinated by the Christian Tabernacle Centre and supported by firms, including Tesco, M&S and Hamleys.
---
The Samaritans provides a free support service for those who need to talk to someone in the UK and Republic of Ireland. Visit Samaritans.org or call 116 123 (UK) or 116 123 (ROI), 24 hours a day, 365 days a year. Visit this website to find a support phone number in your country.