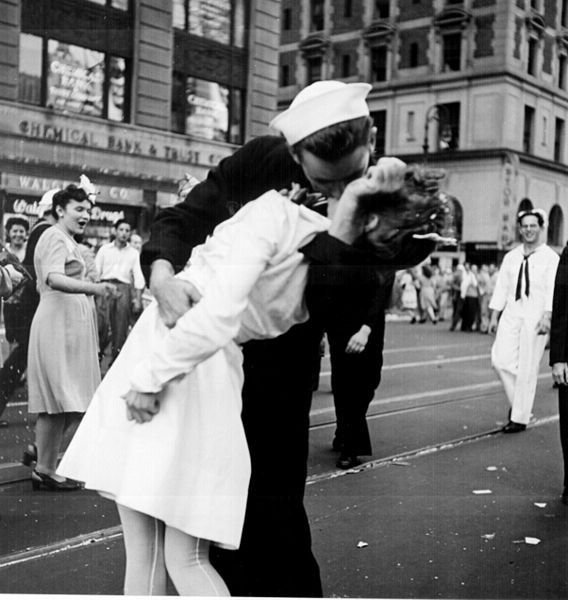 Greta Zimmer Friedman, the woman kissed by a sailor in one of the most popular images celebrating the end of World War Two, has died of pneumonia.
Her son, Joshua Friedman, told the New York Daily News she passed away at the age of 92 in a hospital in Richmond, Virginia.
Zimmerman was born in Austria in 1924, and travelled to the United States in 1938 with her two younger sisters, fleeing the Nazis and Hitler.
Her parents were meant to follow but were unable to escape. The family never learnt the fate of their parents.
As a 21-year-old dental assistant, Friedman was pictured in a close embrace with sailor George Mendosa at New York's Times Square on 14 August, 1945. She had no knowledge that she was snapped by Alfred Eisenstaedt, until the 1960s when she saw herself in a book published by the photographer.
'V-J Day in Times Square' was published in Life magazine with the caption, "In New York's Times Square a white-clad girl clutches her purse and skirt as an uninhibited sailor plants his lips squarely on hers."
Many people claimed to be the embracing couple caught in a clinch, but it was only in the 1980s that the true identity of Friedman and Mendosa became public.
The truth behind the image was revealed including the couple being complete strangers, having never met before. The sailor was with his future wife at the time, and she can be seen smiling in the background of the photograph.
Although the picture seems to capture an intimate moment, the nurse dismissed the claims.
"It wasn't much of a kiss," she told the Veterans' History Project in 2005. "It was just somebody celebrating. It wasn't a romantic event.
"It wasn't my choice to be kissed," she added. "The guy just came over and grabbed!"
Modern-day critics have deplored the image as "little more than the documentation of a very public sexual assault", according to Time Magazine.