A new episode of Grey's Anatomy Season 10 titled We Are Never Ever Getting Back Together airs tonight and will feature more of Derek Shepherd's sister Amelia, who returned to the show in last week's episode.
Actress Caterina Scorsone, who plays Amelia, disclosed some key details in a recent interview with TVLine about the upcoming episodes leading to the season's eagerly-awaited finale.
The actress also spoke about the graph of her character over the next couple of episodes.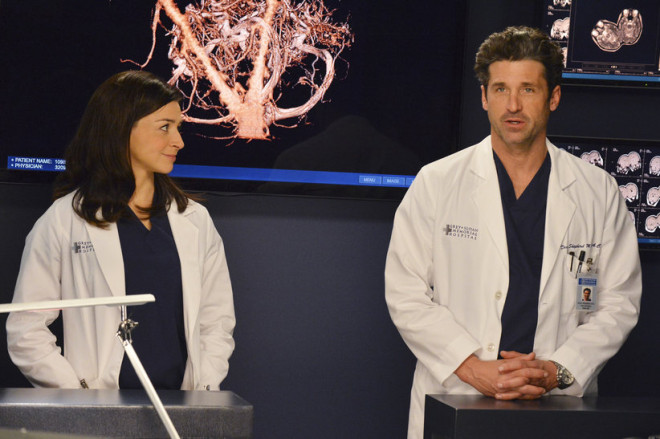 "Amelia is not an uncomplicated character. She's endured enough traumas that she'll be working for the rest of her life. So, I'm sure there plenty of demons to battle in the coming episodes," Scorsone said, according to TV Line.
The actress also spoke about what is in store for this Thursday's installment of the ABC show.
During the episode, Amelia and Derek work together on a unique case, according to a report in The Christian Post.
"It's a very complicated neurology case involving conjoined twins, so we need to work in tandem, because you've got two brains as one," the actress revealed. "Luckily, both Shepherd siblings are brilliant neurosurgeons."
According to The Christian Post, the synopsis for 'We Are Never Ever Getting Back Together' is as follows:
"Cristina seeks guidance from Meredith as she makes a decision about her future. Meanwhile, Derek and Amelia join forces to operate on conjoined twins; Jo takes on too many cases; and Stephanie uncovers the truth about Bailey's bubble-boy case."
Scorsone also talked about the season finale which will air on 15 May, saying that "the explosive episode" will put Grey Sloan Memorial Hospital into an absolute chaotic state.
She also revealed that the episode will have some sort of a terrorist attack that injures hundreds.
"It's going to be 'all hands on deck,' absolutely. It's chaos. It's Shondaland!" she said.
Grey's Anatomy airs on ABC Thursdays at 8pm EST.