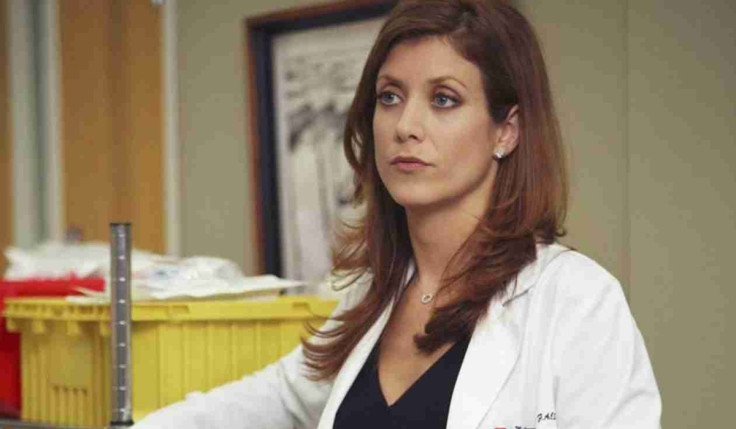 Grey's Anatomy star Kate Walsh has revealed that in 2015 she underwent brain surgery after doctors discovered a benign tumour "the size of a small lemon". The star opened up about her ordeal on Monday's (18 September) Today show.
Walsh was diagnosed after filming concluded on TV comedy Bad Judge and she began experiencing a string of symptoms from exhaustion to aphasia, leaving her unable to form sentences and find her words.
"The exhaustion got to the point where I could drink five cups of coffee and still not feel awake or clear," she said. "And then around April, I started having more cognitive difficulties... I wasn't able to finish sentences, and that was when I got really alarmed.
"It was subtle then it got pretty apparent pretty quick," she said of her symptoms. "I had to really advocate, because they don't hand out MRIs so easily, but I got an MRI and thank God I did.
"It's not something that they do all the time... I had to advocate a little bit for it. They don't hand them out all the time 'cause it's magnetic radiation. I found out immediately that I had a very sizeable tumour."
While benign, the tumour's size and the swelling around it caused Walsh pain and discomfort.
Just three days later she was on an operating table with doctor's removing the tumour – which was "a little over five centimeters" wide – from her front left lobe.
"As much as it was scary, I was sort of in robot mode once I found out," she said. "I was relieved that I could get in with a great doctor and one of the most amazing surgeons in the world, and have them take care of it.
"I had the MRI and three days later I was in surgery, and it was benign and they were able to get all of it. After that, I just really focused on recovery, and surrendering to that process."
Her experience prompted the 49-year-old to partner with Cigna Healthcare on an ad campaign trying to get people to get a check up. The campaign stars other TV doctors, including Doogie Howser MD's Neil Patrick Harris, Scrubs' Donald Faison and Walsh's Grey's Anatomy co-star Patrick Dempsey.