Grimm season 5 episode 7 will not air this Friday, 18 December as the show is on a winter hiatus. The show will return with a new episode on 29 January 2015 on NBC network. The fall finale found Nick and his team fighting off an ambush led by the Wesen uprising aka Black Claw.
Just when it looked like victory for team Nick, a hidden figure worked some magic that sent his assailant flying, and it was Juliette, in a weird new hairdo. Actress Bitsie Tulloch made a return in the series in the role of Eve, a mysterious woman working with Hadrian's Wall.
Actress Tulloch and series co-creators David Greenwalt teased about Juliette's alter ego Eve in an interview with TV Line.
Speaking about Tulloch's return, Greenwalt said, "A long time... But to keep my word, [Juliette] is dead. She's coming back, but it's not really Juliette anymore. It's this new character, Eve, who has not been brainwashed exactly, but she's been through some incredibly tough training where they broke her down to nothing. She's basically a super Hexenbiest weapon for Hadrian's Wall to fight Black Claw."
The creator also teased a major confrontation between Eve and Nick in the mid-season premiere. Greenwalt shared, "She has a big scene with Nick in Episode 7, and she's just a completely different person who doesn't even relate to Juliette anymore — because, to her, Juliette's dead.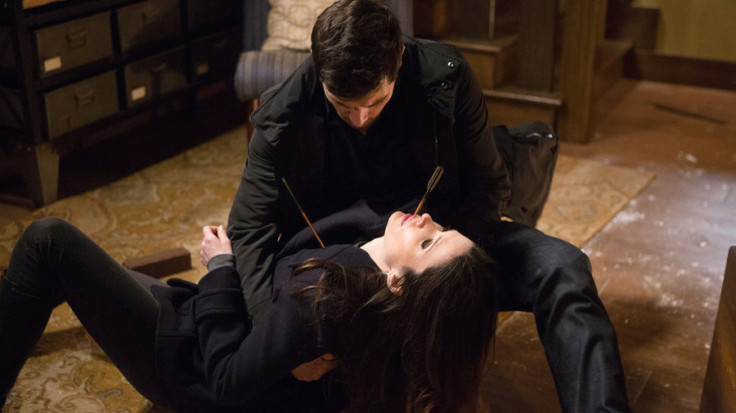 Eve has Juliette's memories according to the creator. "She knows who Nick is, she knows what happened, and it all gets explained, what happened the night that Trubel shot her in the chest and neck with the arrows," Greenwalt added.
Bitsie Tulloch talked about how long she knew about the big reveal. "I've been really strategic. I technically was only off for four episodes. It feels like a lot longer, because since the finale I've know this was going to happen... Not going to Comic-Con made me a little sad, because I always have so much fun at Comic-Con."
"But I really needed not to be there to sell this story... Conveniently enough, since David Giuntoli is also my real-life boyfriend, a lot of people just assumed that the reason I was still in Portland was because I'm dating him. The reality is, 'No, the reason I'm still in Portland is because I'm still a regular on Grimm," she added.