GTA 5 DLC: Buy Everything Now - Independence Day DLC Removal in Less Than a Week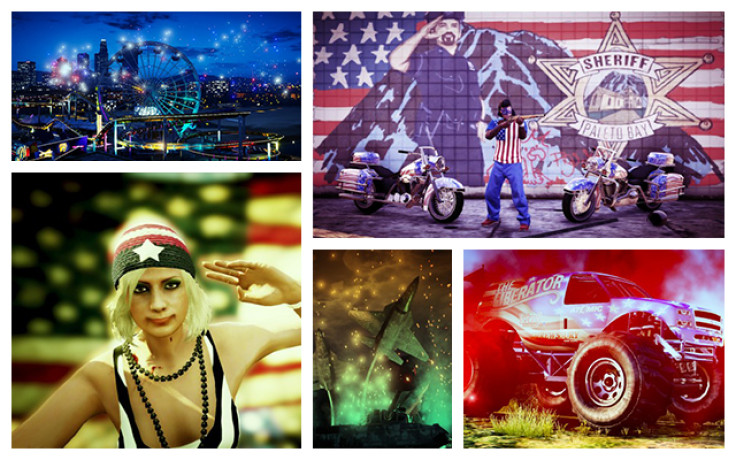 Rockstar has officially confirmed to remove a lot of items from your in-game inventory pertaining to GTA 5: Independence Day DLC in the upcoming 1.16 patch or title update.
Avid GTA 5 gamers are advised to take this opportunity to purchase all available online items for this DLC before the game developer takes them out as these are limited edition items meant for a specific occasion (America's Independence Day Celebrations) and will last for a limited period of time.
Rockstar has recently updated its Newswire portal with a formal announcement stating that the limited-time content pertaining to Independence Day Special DLC will be removed in less than a week's time.
According to the report, limited-edition items such as the Sovereign motorcycle and the Liberator monster truck, new weapons such as Musket and Firework Rocket Launcher, as well as patriotic tees (T-shirt) and masks will be gone with the imminent update for GTA Online.
On the contrary, the seven new properties, the ability to ride Ferris Whale and the Leviathan Roller Coaster, as well as 17 new jobs will be retained permanently, adds Rockstar.
Not to mention, the Firework Rocket Launchers, along with one free full refill of ammo, will be restored into your inventory during future holidays and other special events when you would wish to celebrate the occasion on a grand scale.
The game developer has further hinted that GTA 5 gamers will be served with news of some bonus double RP later this week as a mark of proper farewell to the Independence Day Special.
© Copyright IBTimes 2023. All rights reserved.