Flappy Bird has for long been in the spotlight of the mobile gaming community, owing to its simplistic yet challenging gameplay with just a tap of your finger.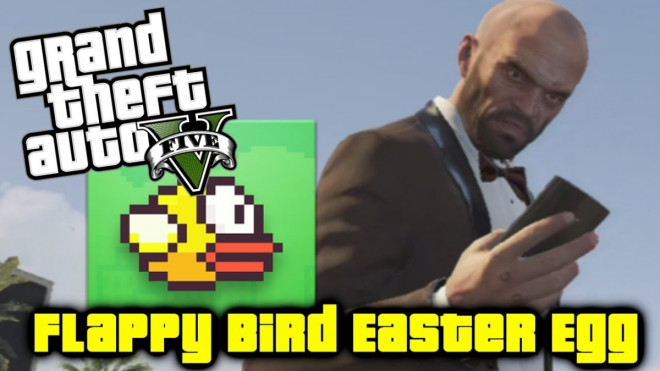 Discerning GTA 5 gamers have unearthed a couple of secret Easter eggs that allow anyone to play Flappy Bird for free using the in-game mobile phone. The gamers reveal that the only way to unlock this secret involves performing some specified set of actions in GTA 5.
IBTimes UK explores possible ways you could play Flappy Bird in GTA 5, based on the recent YouTube videos posted online.
How to Play Flappy Bird via Hidden Easter Eggs (Method 1)
You need to own an apartment to make this trick work and unlock the Flappy Bird Easter egg.
Just go over to your barn and smoke some weed until your are really out of your mind or feel dizzy. This trick seems to work better if you have cornrows. NOTE: Try to own cornrows if you don't have them already.
Now return to the couch, lean back and relax, while you let the effects of the weed take over your mind.
Once you start feeling dizzy, pull up your in-game phone and navigate to contacts. Now hit X on Xbox 360 to bring up the dial-pad.
Enter the Easter egg phone number: 18002473 where 2473 stands for "BIRD". Well, you got it...that's the key to unlock Flappy Bird.
Now hit the "X" button on Xbox 360 to call the number and voila! You now have access to Flappy Bird game...
According to the gamer who posted this video on Flappy Bird Easter egg, Rockstar seems to have capitalised on the popularity of the game and ported it to GTA 5.
Nevertheless, several GTA 5 gamers have confirmed the Flappy Bird Easter egg to be legitimate and working.
If you are still unconvinced, check out the demo video below:
Another discerning GTA 5 gamer, RobbinRams, has posted a video revealing a series of actions that need to be performed in order to unlock the secret Flappy Bird easter egg in GTA 5.
How to Play Flappy Bird via Hidden Easter Eggs (Method 2)
Go to Wezel News building and look for the Flappy Bird sign on its windows. Go near a metal container and hit "right" on your D-pad to call up a taxi driver.
Wait for the taxi to arrive and then hop into it. Choose the pre-defined waypoint by pressing "A" or "X" on your console. NOTE: The easter egg is confirmed to work on the Xbox 360, but the PS3 version is still untested.
Get down at the destination waypoint when the taxi halts for a while, following a brief loading screen.
Take a look at the blacklight map for GTA 5 collector's edition. It reveals your position right next to the graveyard.
Explore the graveyard carefully to find a secret pistol lying in an open grave.
Though the pistol looks like any regular side-weapon you carry in GTA 5, remember this is your first key to unlock the Flappy Bird Easter egg. So, replace your current pistol (if any) with this one in your inventory.
Once again call up a taxi and get down at the Weazel Dorset and look for some bird sign or a hashtag (#).
Now open up twitter equivalent app from the in-game phone, which is also called "bleeter". Open the web-browser and type-in www.bleeter.biz and hit enter.
On the bleeter website, navigate to page 6 to find the next clue for Flappy Bird easter egg. The clue is a tweet relating to Junk energy drink... just click on it and choose "No" and then "Yes" to try again.
If you are playing as Trevor, then choose "Adrenaline Junkies" to unravel the hidden map in the game showing several key locations of interest.
Now go and look for the Adrenaline Junkies which seems to be hidden somewhere in the Airport. Once again hire a taxi to get there in quick time.
Locate the secret door entrance in the Airport, which leads the way to the 'Junk energy drink' vendor machines.
Just pick up 66 of those red cans and keep guzzling them one by one. Tip: Just avoid picking can number 67 else you might end up getting shot by the cops and you will die instantly.
Step out of the building. Get outside and shoot a bullet from the secret pistol at some object. Then strike a punch in mid-air and jump.
This will activate a load screen and you will now start flying above the airport. The best chance to survive this jump is to dive into the water.
Get to the coffee shop building with "java.update ();" signboard on it. Use your sniper scope to read the riddled code in java language format on the signboard.
Now put your in-game mobile phone into sleep mode. Then type "child" on your in-game mobile browser.
Open the website 'Children of the Mountain" and type the secret password which is the code written on the coffee shop billboard. For instance, type-in "java.shot.milk.foam" and hit Enter button.
Now you have access to Flappy Bird game in GTA 5.
If you are a sceptic, check out the demo video below: