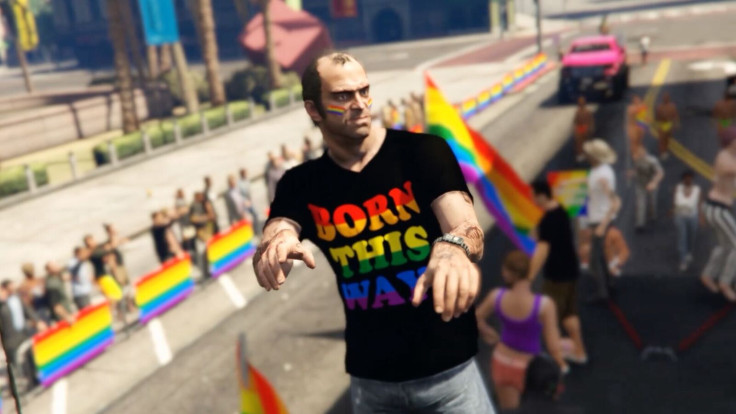 Besides its familiar flavour of violence, mayhem and rampages, one of the best aspects of Rockstar Games' crown jewel, Grand Theft Auto 5 (GTA 5), is its active modding community. Now, a group of GTA 5 enthusiasts have launched an unofficial mod that allows players to enjoy a virtual Pride parade within the game.
It is the latest addition to virtual metropolis of Los Santos since the game was was released on PC last year.
Dubbed "Los Santos Pride," the mod is the result of a collaboration between Stockholm Pride, the largest Pride festival in Scandinavia, Swedish advertising agency Garbergs and GTA 5 fans JulioNiB, TheFriedTurkey, 8-Bit Bastard, Merfish and TheNathanNS.
The trailer for the Los Santos Pride mod features a lively crowd of different races and genders celebrating a Pride parade marching, dancing and fist-pumping their way down the fictional city's streets.
Some excited bystanders are seen carrying signs with rainbow hearts and messages like "Love comes in all colours" and "Orlando" on them as a huge rainbow blimp floats overhead with the line, "Love is in the air." The trailer also features music from Swedish DJ Alesso.
Garbergs interactive art director William Lothman told IBTimes UK that the Los Santos Pride mod was initially scripted to make the parade "destroyable" like everything else in the game, allowing players to disrupt or destroy the parade and kill the parade's participates, if they so chose to do so.
"This project has never been about moralizing over violence in games," Lothman said. "For us, Los Santos Pride is all about love and equality. That's the essence of the project and that's just a non-debatable fact."
Given the inherent nature of a game like GRA, Lothman said the team initially decided to accept "everything that would come along with it."
"I mean, everyone in the team loves gaming and we understand the nature of games like GTA V," he said. "Doing something violent inside it doesn't mean that you stand behind violence or horrific acts. If someone decides to to something violent and record it and upload it on YouTube, then that's on them."
However, towards the end of the scripting process, the horrific shooting took place on 12 June, at the iconic gay nightclub, Pulse, in Orlando, Florida, that left 49 people deal and over 53 others injured.
"That was just devastating," Lothman said. "And then directly after that we heard about the threats towards Los Angeles Pride. Our first reaction was that Los Santos Pride maybe was completely wrong."
"But then we realized the importance of it, you know. The importance of taking a stand for more love and equality in the world. Especially now, in times like these. That's why we decided to make the parade indestructible - just to show that love always triumphs."
By making the parade and its participants invincible, the pride parade will continue marching on despite any player's attempts to try and stop it, reinforcing the idea that love will always triumph over hate.
"The message of love and equality is always needed, whether it be a mod for GTA V or anything else," Lothman said. "If you could tell it in a new interesting way it's always good."
When asked why the team decided to go with GTA 5 for the LGBTQ-themed mod, despite the game's not-so-sensitive approach to everything from killing pedestrians to prostitution, Lothman said the game's open world and stunning graphics gave them the perfect platform for their free pro-bono project.
Although the mod itself is a beautiful gesture, its trailer on YouTube has already sparked some vile, hate-filled comments filled with references to mass-murdering gay people and derogatory insults against the LGBTQ community and women.
Still, one comment reads, "All this hate proves we need more of this. Hate will only vanish when love overwhelms it."
The Los Santos Pride mod is currently available to download for the game's PC version. Stockholm Pride will run from 25 July to 31 July.