Avid GTA Online gamers are in for a special treat as Rockstar is offering a bunch of colourful Halloween DLC T-Shirts for free, based on certain in-game criteria. Renowned YouTuber DomisLive (aka Dom) reveals the secret behind unlocking all the hidden Halloween T-shirts, in his latest gameplay video for GTA Online.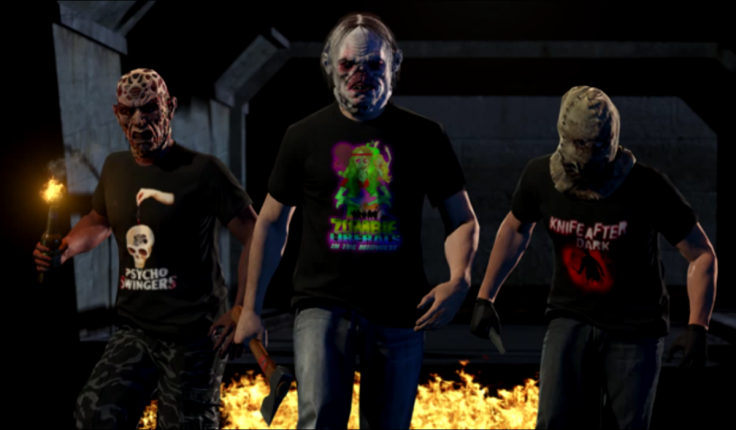 Similar to how most of us have unlocked the three special Halloween caps, there is a way to unlock these Halloween Special T-shirts just by logging into GTA Online, during the Halloween weekend starting 30 October. You can also unlock 10 more T-shirts in the course of this weekend (30 October to 1 November), besides winning some cool goodies from Rockstar by participating in the Event Weekend Sweepstakes.
You can unlock three exclusive T-shirts: The Knife After Dark, Psycho Swingers and Zombie Liberals, just by logging into GTA Online on all three days this weekend. In other words, you can unlock The Knife After Dark on 30 October, Pyscho Swingers on 31 October and finally The Zombie Liberals on 1 November.
Coming to the other bunch of 10 Halloween Special T-shirts, Dom explains that the Rockstar livestreaming event will hold the key to unlock these additional set of T-shirts. Besides, the YouTuber plans to release another exclusive video detailing how to unlock these 10 T-shirts, before the Halloween weekend ends.
In related news, the same YouTuber explains how the Halloween DLC items are disappearing from the player's inventory, due to some apparent bug in the game code. Nevertheless, it is ascertained that Rockstar Games is promptly refunding the amount spent on these DLC items, following the release of Halloween Surprise for GTA Online.
Dom acknowledges that all his Halloween masks and the Flashlight have vanished from his inventory for some reason. Although some GTA Online gamers have confirmed that they had no issues with their purchased DLC items, others have been complaining of not receiving the DLC update or the lack of access to these special items.
Dom assures that the game maker has promptly credited or refunded a huge sum of money to every single GTA Online player, who has purchased these Halloween Special DLC items in the last few days. As Dom admits, regardless of whether you lost any DLC items, Rockstar Games has been offering a lump sum of $900,000 for all GTA Online gamers who have purchased one DLC item or the other.
Here is what Rockstar had to say about refunding or reimbursing this lump sum of money to all GTA Online gamers:
"Due to an earlier issue we are reimbursing your GTA Online bank account for the Halloween Special (Halloween Surprise content) including your purchases that may have been disappeared from your inventory. The original issue that caused this error to occur has now been fixed. Please feel free to purchase the items again."
To everyone's surprise, Rockstar seems to have already fixed the glitch, besides offering the surplus bonus money to all GTA Online players. You can even get a glimpse of Dom's GTA Online bank account (see video below), which seems to be over-flowing with surplus cash.