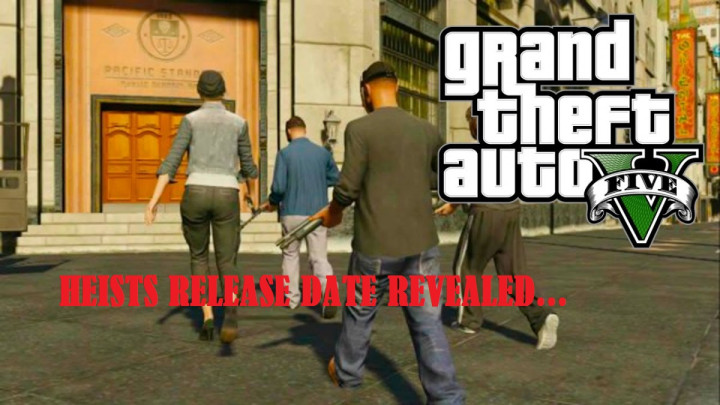 Rockstar has recently teased some brand new screenshots pertaining to GTA 5 Next-Gen's Heist DLC gameplay for Xbox One and PS4, with screenshots of the PC version touted as "coming soon" on the game's official website.
Renowned YouTuber DomisLive (aka Dom) breaks some interesting news about Rockstar recently releasing 13 new gameplay screenshots for the upcoming re-mastered edition of GTA 5 for Xbox One and PS4.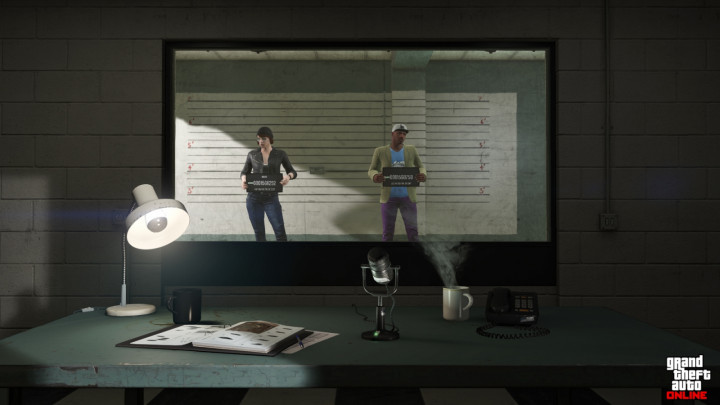 First of the lot is a screenshot (above) probably pertaining to Heist DLC's Cops and Robbers mode, which shows two characters posing for a mugshot at a police station with number plates in their hands.
It is not clear if this is some kind of character introduction screen for the upcoming Heist DLC for GTA 5 Online, wherein your character could begin a new career after being transferred from the prison to a gang stronghold.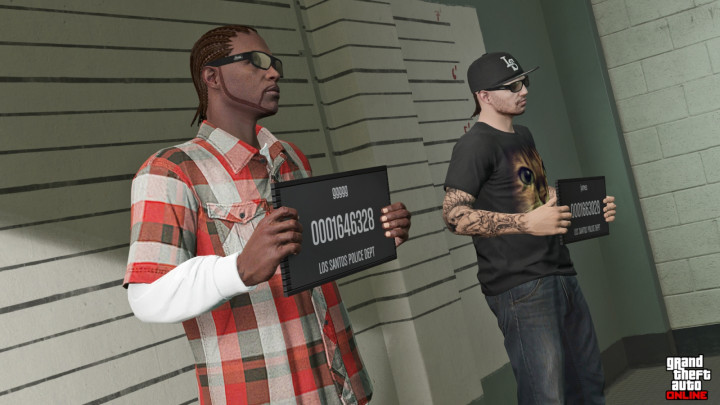 In the next screenshot, you can see two other to-do characters in a close-up snapshot, revealing a couple of criminal record numbers printed on the hand plates for Los Santos Police Department.
Speculation is rife if this second screenshot could actually be linked to the Heist selection screen for the leader's role, wherein the selection criteria could add a new dimension to all Heist missions in GTA Online.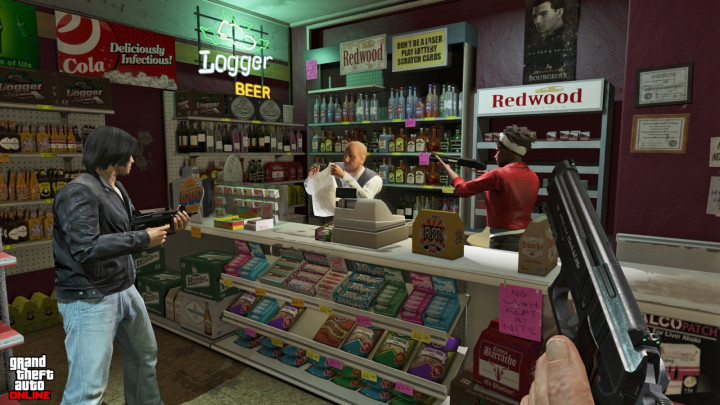 Next up in the list is a screenshot showing three players robbing a liquor store in GTA Online, wherein one player (probably the leader) is shown in First Person Mode and the visual details look simply amazing.
One glance at the screenshot clearly suggests that First Person mode will surely add a new element of detail to the gameplay experience in GTA 5 and could be the ultimate game changer.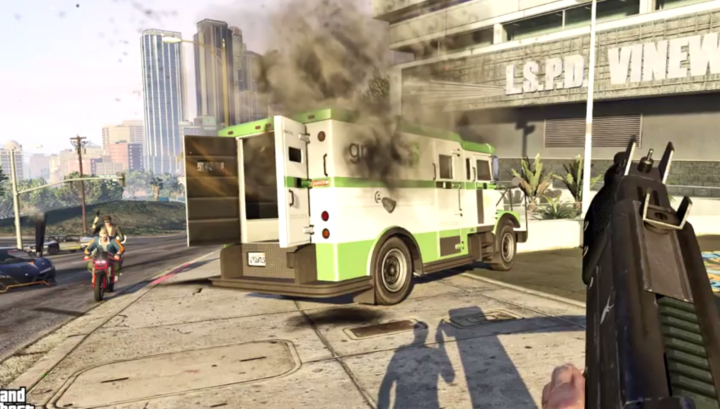 The fourth picture (above) shows an armoured truck robbery right in front of the LSPD building in Vinewood, wherein one person is seen holding a sub-machine gun and the other two players seem to be riding a bike.
Apparently, a smoke bomb or tear-gas bomb is being used to gain an entry into the armoured truck undetected by the cops.
With GTA 5 for Xbox One and PS4 release set for 18 November, the Heist DLC looks on course for a grand next-gen release with 1080p or full HD support.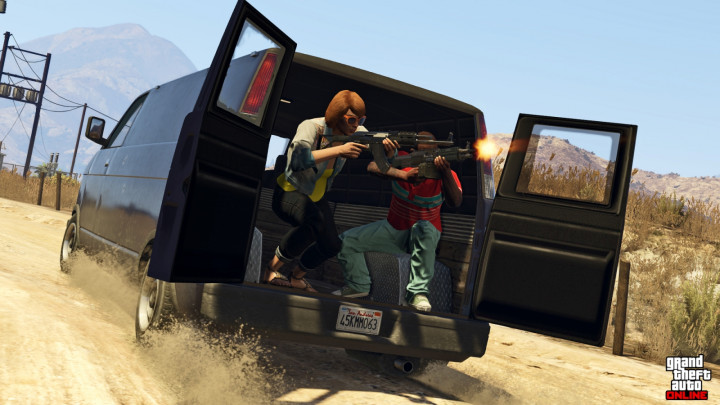 In the final screenshot, you can see two people defending the van from the pursuers (probably cops) as they seem to be in a hurry to get away after stealing some massive loot in a Heist mission.
The screenshot also hints at the weapons of choice for Heist missions, wherein you could be carrying an AK47 and a carbine for medium to long range assault.
Rockstar seems to have definitely done their homework in revamping the gameplay experience with focus on adding more details to the game such as the dirt particles streaming behind the speeding vehicle, as the tyres kick up dirt on sandy roads in GTA 5 next-gen.
In related news, the same YouTuber sheds more light on probable release dates for the Heist DLC on all current-gen and next-gen consoles, including the PC.
The information regarding the Heist DLC release comes from three different sources including IGN, Rockstar Games and Gamereactor.
IGN and Rockstar Games have been busy in the last few days on working with next-gen DLC content promotion by releasing official First Person Mode trailer, GTA 5 next-gen gameplay screenshots, new Heist DLC screenshots (see video above) and more.
Rockstar has just thrown a hint that the Heist DLC is definitely coming soon to all gaming platforms, which could mean any time before or after the release of GTA 5 Next-Gen on 18 November.
On the contrary, Gamereactor hints that the Heist DLC will only be releasing after the final PC version of the game comes out on 27 January.
Besides, the next-gen game release on 18 November promises to bring loads of goodies including cross-gen/platform saves, a new character creator, increased player counts (30 + 2 spectators), 150+ new props and a series of rewards for returning players from current to next-gen consoles on Sony and Microsoft gaming platforms.