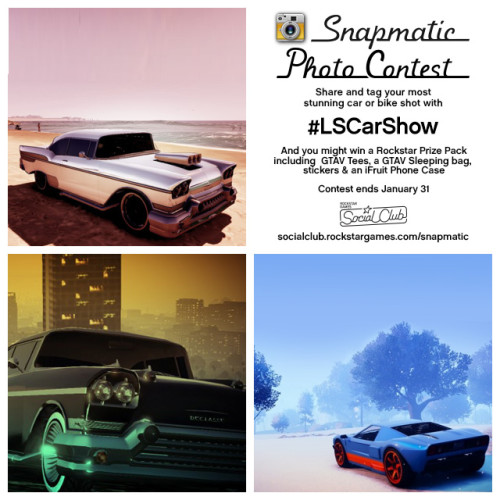 Rockstar has announced photo contest on GTA 5, asking players snap pictures of their best and most beautiful vehicles in the game.
"It's time to roll your proudest 2-or-4-wheeled possession out of the garage (in either GTAV or GTA Online), and capture it in all of its glory for fame and prize pack fortune", said a blog post.
Players can enter pictures of all kinds of vehicles and the winners will be picked based on their composition and photography skills. The developer has announced that there are no restrictions on the type of vehicle.
"Whether your ride is a creatively souped-up stunner or if it's stock yet super clean, let's see how photogenic you can make it", said Rockstar. "We'll be looking for artful photography that truly shows off the beauty of the vehicle as well as for inspiring car or bike shots with a great overall vibe, composition and atmosphere."
How to Participate?
Players are required to take pictures of their favorite vehicles in the most brilliant setings possible. After this, they are required to tag it with #LSCarShow on Snapmatic.
To enter, Social Club members can upload photos from the in-game iFruit phone to the Snapmatic page at socialclub.rockstargames.com/games/gtav/snapmatic.
Users must first long into the Snapmatic page and head over to "My Photos". Over there, they must select the picture and add the hashtag #LSCarShow to automatically have it considered for entry.
Contest Deadlines
The contest began on Friday and will go on till January 31st.
Rewards for Winners
"Our five favorite skilfully shot Snapmatics will be featured here on the Newswire and the winning photographers will receive a deluxe Grand Theft Auto V prize pack including the cozy GTAV Body Bag sleeping bag, an official game tee, an iFruit phone case with decals, as well as GTAV collectible stickers", said Rockstar.
Rules
Have a look at the contest rules and understand if entires from your country are valid over here.