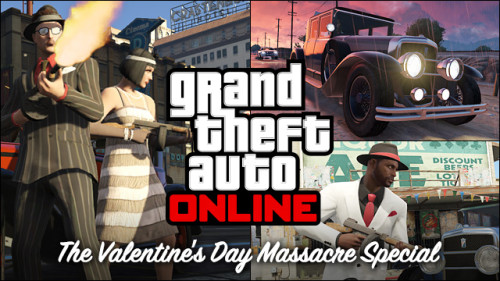 A new update is available for Grand Theft Auto 5 in addition to the exciting Valentine's Day DLC.
Several Money and RP Glitches Patched
Starting with the 1.10 update, players who have been relying on car duplication glitches should note that Rockstar has patched many of them up with the 1.10 update. Apart from this, the developer has also taken some time out to fix several exploits that allow players to make excessive amounts of RP during missions.
Several Issues Fixed
The 1.10 update brings much-needed fixed for issues like incorrect time display on the Bad Sport pool timer, Story Mode issue where all shops could remain closed with their blips missing, problems with corn row haircuts, issues that render characters bald after using masks, apart from 'various' bug fixes.
Changes and Additions
A player who kills a passive player must now pay their hospital bills. Other notable changes include the reintroduction of the Rat Loader, removal of the mechanic, and the addition of a "Blow Kiss" Celebration.
Valentine's Day DLC
The DLC's offerings include "a variety of fun Valentine's themed extras for Story Mode and GTA Online like the Gusenberg Sweeper machine gun, the new Albany Roosevelt ride and a host of new attire options like double breasted suits, flapper dresses, sexy undergarments, novelty t-shirts, hats, masks and more".
All the new items are all available to purchase in GTA Online right now. They will be around until the end of February - yours to keep until the end of time if you purchase them.
Have a look at the full list of changes here.