Lee el articulo en Español aqui.
Verónica Brunati and Jorge Topo López, a husband-and-wife team of Argentine journalists, travelled to Brasil last Summer to cover the football World Cup for Diaro Marca, Diario As and Sport among others. They took their two children with them, hoping to write about an Albiceleste triumph on enemy territory. The mood was joyous as they set off.
Tragically, Jorge Valdano's quote "football is the most important thing of all the unimportant things", was to acquire fresh resonance, with devastation just around the corner.
"Our national team was fighting for a place in the final during the semifinal penalty shootout while I was explaining to my little children that their dad had been murdered" recalls Brunati, who has granted an exclusive to IBTImes UK.
Topo's wife lived through the worst moments of her life in Sao Paolo, on a fateful July night that leaves question marks hanging over all the organisations and authorities involved in organising the World Cup: the Brazilian government, the police, even the Fifa organising committee.
Pep Guardiola, through a highly commendable gesture, has drawn the world's attention to the incident, and what lies beneath it. During a press conference before the clash between Bayern and Porto earlier this week, the Catalan wore a t-shirt bearing the legend "#justiciaparatopo", lending his support to a campaign which demands justice for the journalist.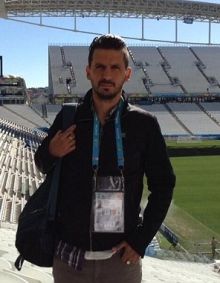 Far from praising his humanity and empathy, Uefa has charged the former Barcelona manager. However Guardiola does not care. He knew what would follow his action, but he has achieved his objective: to pile pressure on the authorities to investigate what happened on 9 July in Sao Paolo.
In the early hours of the morning on 9 July, the day of the semi-final clash between Netherlands and Argentina, López travelled inside a taxi through the roads of Guarulhos (Sao Paolo), looking for some rest after an intense day. The journalist, aged 38, was two blocks away from the Fifa hotel in which he was staying, when the taxi was brutally hit by a car carrying three thieves who were being pursued by police.
The impact was so heavy that the journalist's body flew from the vehicle, killing him instantly. The criminals, who had committed a murder before the chase began, entered a nearby Ibis Hotel at gunpoint. "Miraculously, the tragedy did not escalate, despite the fact that it took about five hours for the authorities to arrest the killers inside the hotel" recalls López's wife.
"My husband's dead body was left in the street, abandoned, as anyone can check on Youtube. He was wearing his press credentials, fully identified, close to his hotel and police left him in alone the street. Nobody, neither Fifa nor the police nor the Brazilian Government, contacted his family. Nobody phoned me... I found out about my husband's death through twitter. Through a tweet of condolence from Diego Simeone".
'My husband's death was not an isolated incident'
Brunati suggests "there was an obvious breach of the protocol applied in these kind of events. Police made the wrong decision. The place in which my husband was killed was a very busy road, it was a strategic location. At this point, we must remark that we are talking about one of the most dangerous cities in the world, hours after Brazil's defeat to Germany.
"Such a police intervention, jeopardising citizens' and tourists' lives, was out of place, and the authorities know it well. Brazil had the obligation of guaranteeing security, Fifa had to look after footballers, staff and journalists. However, it is obvious that they failed.
"I want to underline that my husband's death was not an isolated incident. Maria Soledad Fernández, also a journalist, died in very similar circumstances, after a car collision. Her father is desperate, begging for justice".
After Brunati read Cholo Simeone's tweet and found out her husband had died, she had to deal with a new ordeal, due to the thoughtless behaviour from the authorities.
"When I arrived at the morgue, I suffered a nervous breakdown. The stress levels were so high that I was not able to cope with them. I needed medical attention, and they denied it. Even in those circumstances, I was told that I needed international insurance, 'otherwise we won't call an ambulance'.
"I had recently lost my husband, I had to face the dramatic moment of telling my children about it, and they denied me assistance. Thankfully, some friends found the insurance papers inside my bag after all."
With courageous fortitude, Brunati explains her aims. "I want justice. I am just a journalist who wakes up early in the morning every day to try to make ends meet and help my children after a tragedy. No more than that. I just want justice.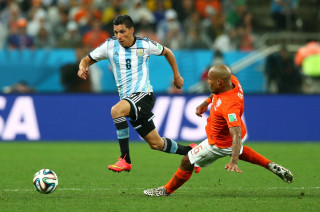 "The trial is taking place right now. Two adults and a 13-year-old who is living in an approved school have been charged. Apparently, they can be sentenced to 20 years in prison. But we are going one step beyond, we want to sue the police and institutions for their lack of responsible decisions".
The trial has been surrounded by strange circumstances. According to Brunati, the death certificate dated the incident at 8 July, a day before it actually took place, and the collision took place on a motorway, far from the actual location. Besides that, it is claimed that when Topo's colleagues went to the police station to collect their friend's bag, they found inside it the guns which the alleged perpetrators of the crash used to commit their murder.
"Neither Fifa nor Uefa have phoned me to offer condolences, Joseph Blatter's tweet is all I have read" says Brunati. "The Argentine embassy did not help me at all. Despite the inhuman behaviour shown by these political organisations, I am extremely grateful to journalists, media and footballers.
"What can I say about Pep Guardiola? I have only talked to him twice. I hardly know him. But friends in common have told me that once he knew about the tragedy, he did not hesitate. He doesn't mind being fined, and I am a little bit overwhelmed about world's reaction to his gesture. I can not put into words what he has done.
"He knew the consequences but at the same time, he was aware of how much he was going to help Topo. He has done his best to put pressure on institutions, to spread the story all over the world. It makes no sense to fine him for this.
"Maybe the authorities do not want people to know about the reality of a country that, let's not forget, will host the Olympic games next year".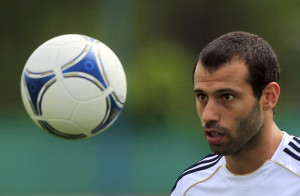 Guardiola joins a long list of journalists and footballers who have shown support to Topo's family. Fermin de la Calle, a well known Eurosport journalist, revealed that Javier Mascherano phoned López's wife on behalf of the whole national team the day before the World Cup final. Leo Messi, by the way, cried when he found out about the journalist's death, as he held him in high esteem.
Another special mention goes River Plate, the central focus of López's journalistic activity. The Argentine club have put their legal team at the disposal of Topo's wife, as it is extremely expensive to take legal actions in Brazil. And the latest gesture of support, by Guardiola, has given Brunati fresh strength.
"Despite the inhuman behaviours from Fifa and Uefa, all these gestures of solidarity cheer me up" says Brunati. "My husband would be very proud".
Oier Fano Dadebat is a Spanish journalist who divides his time between San Sebastian and London. You can find out more about him on Twitter @oierfano.