"It is Messi against Cristiano. It is the best two teams on the planet going head-to-head. It is more than a game. It is a war. It is Real Madrid against Barcelona".
This little fragment of Sid Lowe's fascinating "Fear and Loathing in La Liga" summarises the all-consuming rivalry in Spain. A clash which leaves no one indifferent. Since La Liga began, Los Blancos' trophy cabinet is the largest in Spain and Europe, even though Barça have closed the gap during the last decade.
However, when the referee blows the final whistle, when just respect, fair play and institutional issues matter, no club overshadows Real Madrid. Least of all, Barcelona. And, before I make my point clear, I would like to remark that I do not lose any sleep whichever of these two clubs wins or loses. I blame Real Sociedad for that.
But, as a Basque supporter, I have developed a deep admiration for Real Madrid, after some inspiring gestures by the club run by Florentino Pérez. This range of stories sums up Madrid's "señorío" - the Spanish word for grace or dignity.
During the eighties, the Basques won everything a club can win in Spanish football (two leagues, a Cup and a Supercup). They based their success on their performances in their old and noisy Atocha fortress. The most disliked player was Real Madrid's legend Juanito. A gladiator. A player who took fighting to the limit.
"He was one of the bravest players I have played against in my life. In one of our clashes, he elbowed me in the face and pulled one of my teeth out. Whenever we played in Atocha, I watched him and I realised how much he was enjoying the match, despite the fact thousands of supporters were insulting him. He was a warrior who felt alive in that kind of atmosphere".
Those are the words of Bixio Gorriz, Real Sociedad's record appearance holder. Spot on. Juanito received spits and insults everytime he visited San Sebastian. With no exception. Something similar to John Terry's and Luis Figo's situation at Loftus Road or Camp Nou... until something happened in 1987 and everything changed.
Former Real Sociedad player Javier Sagarzazu, who had signed for Deportivo de la Coruña that summer, passed away due to a stroke on the Galician club's team coach. He left a wife and a little child. Immediately after being informed of this tragedy, Juanito went straight to the Santiago Bernabeu offices. He picked up the phone - the days of Whatsapp and e-mail were still far off in the future - and called each and every captain of the twenty La Liga clubs.
"Lads, Sagarzazu was a good man and he leaves a wife and a little kid. We have to rise to the occasion. We have to organise a testimonial. All of us must go to Atocha". Juanito was a leader and everybody followed his lead.
That was Juanito's penultimate match in Atocha. The last one took place in 1988, wearing Malaga's shirt. After the final whistle, a man who was once the most reviled player in Atocha left the pitch to a standing ovation. He died a few months later, in a tragic car accident. "One of the greatest persons I have played against" says Bixio Gorriz.
A precious story, diametrically opposed to what happened seasons later in Camp Nou.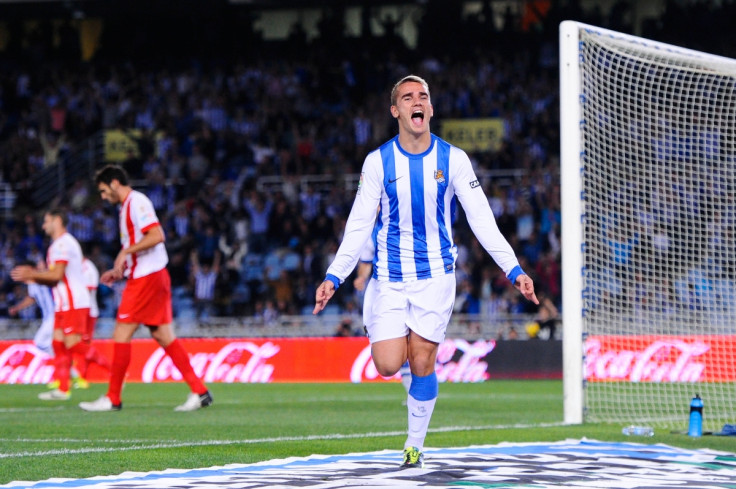 Real Sociedad supporters were mourning the death of Alberto Ormaetxea, the most decorated manager in Real's history. Under his tenure they lifted two leagues and a Supercup. The "txuriurdins" played that night at Barcelona and Real's board of directors asked the locals for a tribute. The answer from the "blaugranas" was disappointing. "The death of a rival's former manager is not among the reasons for a minute's silence in our statutes". And that was all.
This lack of respect still hurts at Anoeta and was remembered two months ago, when a San Sebastian supporter died in a car accident on his way to the Santiago Bernabeu. True to their style, Real Madrid payed homage to the 23-year-old fan, along with the recognition from Basque fans.
But, leaving such sad stories aside, Barcelona have frequently shown meanness towards their rivals. Such stinginess was obvious in 2009, and the Basques were again on the receiving end.
Real celebrated their 100 years teetering on the brink of bankruptcy, under administration and in the second division. The club phoned Barcelona to invite them to their "party" and the answer can be summarized in three words. "Three million euros". The Catalans wanted Real to pay them 20% of that season's budget for a match in which they were invited as "friends".
Obviously, the idea was dismissed. But, true to their style, Real Madrid accepted the invitation. For free and with all their stars (Cristiano, Xabi Alonso, Ramos) in their starting lineup. Respect and señorío at its finest. I could talk about Barcelona's nasty "tricks" the week before the 1988 cup final, Real Madrid's yearly homage to Manuel Alday, etc. but this column would turn into a book.
Their classy behaviour towards Real Sociedad will come as no surprise to Spanish readers. Almost all clubs in La Liga have their own anecdotes with Madrid when it comes to institutional matters. On the pitch... that is another matter. Their "señorío" is an axiom, inside and outside Spanish boundaries. No matter the circumstances, they are there, ready to help, when a club unveils their new floodlight system (Crystal Palace, Shelhurst Park, 1962) or after an earthquake in Lorca to help the victims.
Or even to be part of a legend's special moment, as Alex Ferguson recalls in his autobiography: "I was surprised when, after my last match against WBA, I received a beautiful gift, a silver replica of Cibeles, the fountain where Real Madrid celebrate title wins, and a lovely letter from president Florentino Pérez". Fergie mentions an Ajax present as well, but no words for Barcelona can be read.
Both Barça and Real Madrid are fighting for the La Liga title right now, with just a two-point gap. But when it comes to fair play and "señorío", the distance is simply chasmic. This, of course, is just an opinion. My opinion. But all the events narrated in this column are facts. If you think that fair play matters, judge for yourself.
Oier Fano Dadebat is a Spanish journalist who divides his time between San Sebastian and London. You can find out more about him on Twitter @oierfano.