The Mexican city of Reynosa ground to a halt on Friday (17 April) after vehicles were set ablaze and a gunfight broke out between gang members and police, killing three people.
The violence ensued after El Gafe – a leader of the Gulf Cartel – was arrested earlier in the day.
Speaking on condition of anonymity, a federal government security official identified El Gafe as José Hugo Rodríguez Sánchez, Cartel chief José Tiburcio Hernández Fuentes was also arrested.
"The same criminal group reacted by attacking federal forces," officials said in a statement which described the dead men as "armed civilians".
Officials said that parts of the city were blocked after the gunmen set vehicles on fire and residents were warned not to use certain main roads because of blockades and shoot outs.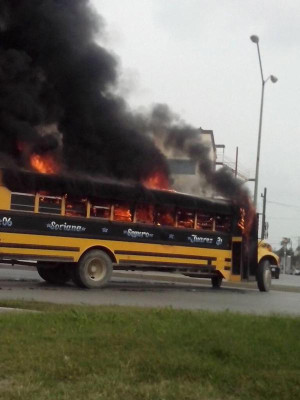 The situation was brought under control late on Friday afternoon and El Gafe was taken to Mexico City.
In a statement, the Tamaulipas state government said that three assailants had been killed, while two police officers were wounded.
Mexico violence 'out of control'
Reynosa is a city of about 600,000 people in the north-eastern state of Tamaulipas and sits across the Rio Grande from McAllen, Texas.
The city has been ravaged by violence as two drug gangs – the Gulf Cartel and the Zetas – battle it out for control of the border smuggling routes and crime rackets.
"The city is completely out of control," said Francisco Javier García Cabeza de Vaca, an opposition senator and former mayor of Reynosa.
Over 100,000 people have lost their lives in gang-related violence in Mexico in the past eight years.
Earlier this year, Mexican authorities determined there was enough evidence to charge Maria de los Angeles Pineda, the wife of former Iguala mayor on suspicion of being involved in organised crime.
It has been claimed that she, along with her husband, handed over 43 missing students to a local drug gang who investigators say were killed and then burned.
Although a court statement made no mention of charges in connection with the disappearance of the students, a judge had found that Pineda acted as an intermediary for the gang and assisted in its protection.