At least three people have been killed and several others injured when a "rogue car" ploughed through a footpath in Melbourne's busy business centre on Friday (20 January).
Local media reports suggest a toddler was among those injured when a man drove his vehicle out of control and rammed into pedestrians around 1.30pm local time (2.30am GMT) near Bourke Street mall.
"There was a car that just sped along the footpath and hit people," one witness reportedly told police at the scene.
A man has been arrested following the incident, Australian news media cited police as saying.
"The exact circumstances surrounding the events are still being determined and we will provide further information when it comes to hand," Victoria police said in a statement.
Video footage from the scene showed a maroon-colored car driving around in circles in an intersection outside Flinders Street railway station in Melbourne's central business district (CBD). The driver was hanging his arm out the window.
"He was half hanging outside the car...he was just so reckless...he just didn't care," witness Laura Pollson told the Australian Broadcasting Corporation.
The man then drove up a pedestrian mall and deliberately smashed into people on the footpath, state police said.
A CCTV footage from a convenience store showed several people rushing into the shop as the car sped along the footpath. Images published by local media showed a badly damaged car with a man in red underwear pinned to the ground by police.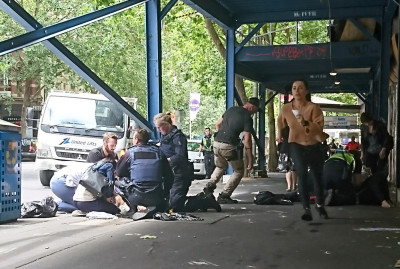 Some reports suggested there were gunshots heard at the scene. However, it is unclear who fired the shots.
Emergency services were called to the scene to attend to those wounded. Access to the roads leading to the mall has been closed following the incident.
The city's CBD, where the incident occurred, is a major financial centre.
"Horrific scenes in Melbourne this afternoon. Hearts go out to all those who've been hurt," Australia's opposition MP, Bill Shorten tweeted.
Victoria Police said they have the offender in custody and clarified that the incident was not "counter-terror related".
"We do believe it is connected to an earlier stabbing in the southern metro region," Acting Commander Stuart Bateson said.