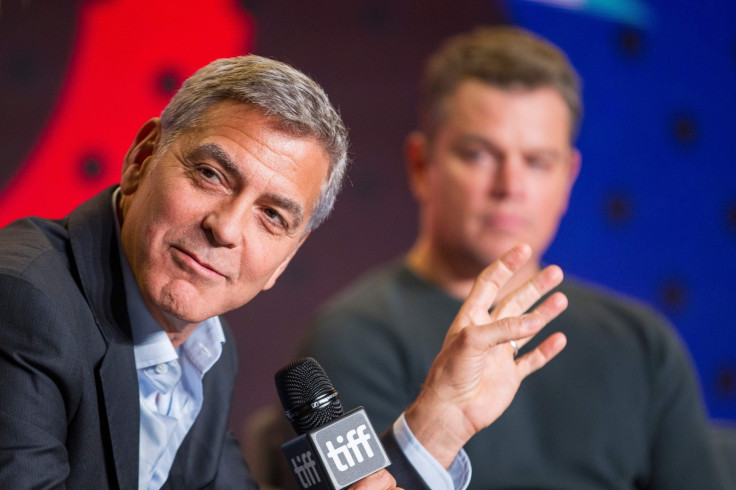 George Clooney thinks it is ridiculous that President Donald Trump calls Hollywood stars "liberal elites", while he sits in his "golden tower". In a recent interview with the Daily Beast, the Suburbicon actor lashed out at the Potus and explained why it was laughable that he is supposed to be a man of the people.
"Here's the thing: I grew up in Kentucky. I sold insurance door-to-door. I sold ladies' shoes. I worked at an all-night liquor store. I would buy suits that were too big and too long and cut the bottom of the pants off to make ties so I'd have a tie to go on job interviews. I grew up understanding what it was like to not have health insurance for eight years, the actor pointed out. "So this idea that I'm somehow the 'Hollywood elite' and this guy who takes a s**t in a gold toilet is somehow the man of the people is laughable."
Clooney explained that for the most part, people in Hollywood moved there from the Midwest so this idea of "coastal elites" living in a bubble is ridiculous. "Who lives in a bigger bubble? He lives in a gold tower and has twelve people in his company. He doesn't run a corporation of hundreds of thousands of people he employs and takes care of. He ran a company of twelve people," he said.
"When you direct a film you have seven different unions all wanting different things, you have to find consensus with all of them, and you have to get them moving in the same direction. He's never had to do any of that kind of stuff. I just look at it and I laugh when I see him say 'Hollywood elite'.
"Hollywood elite? I don't have a star on Hollywood Boulevard, Donald Trump has a star on Hollywood Boulevard! F**k you!" he added, vehemently.
Clooney does not have kind words for Trump's former chief strategist, Steve Bannon either and slams the former Breitbart executive chair's attempts to get into the film industry.
"Steve Bannon is a p***y. Steve Bannon is a little wannabe writer who would do anything in the world to have had a script made in Hollywood," the 56 year old said caustically. "He wrote one of the worst scripts I've ever read—and I've read it. His fake Shakespeare-rap script about the LA riots. Oh, you've gotta read it! It's just f**kin' terrible.
The Up In The Air star believes that if Bannon's script was accepted in Hollywood, he would have stuck with writing movies rather than being a face of the alt-right movement. "He'd still be in Hollywood writing his f**kin' movies and kissing my a** to be in one of his f**kin' films! That's who he is. That's the reality. It's almost like someone in Hollywood should've given him a script—or approved one of his scripts—just to keep him out of the right wing," Clooney said.