Sterling K Brown explains why he won't flash his butt in This Is Us: 'It would look like a lunar eclipse'
The Emmy award-winning actor was willing to show off his abs though, while on his first appearance on Ellen.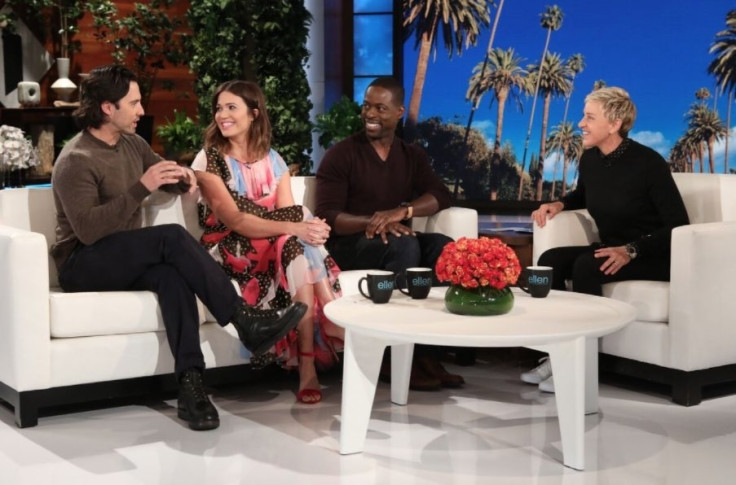 Sterling K Brown made quite the impression during his first appearance on Ellen Degeneres' talk show. Before joining his The This Is Us co-stars Mandy Moore and Milo Ventimiglia on the couch, the actor has to go through a rite of passage of sorts and make his entrance shirtless and on a toy tractor.
"It's not really a challenge; it's just something just to feel like family. Mandy rode the tractor, Milo was shirtless and so what you'll do is you'll ride a tractor shirtless," DeGeneres explained in the episode which airs on 25 September.
After taking a quick peek inside his sweater to check on his abs, Brown took off his shirt, showing off his six-pack and got into the tiny vehicle. As he rode around the stage it was evident that his pants were not too happy with the confined space and began to ride down, giving the audience a glimpse of his underwear. "It's tight!" Brown exclaimed.
During the interview, a member of the audience questioned Ventimiglia on something most of the show's fans have been wondering about. Will he be showing off his butt again in season 2?
"I feel like I get asked that as much as how did Jack die? 'Will we get to see your butt?'" the 40-year-old actor, who plays the show's beloved father figure answered. "I think you can probably go back and rewatch season 1 to see more Milo butt. It's yet to be determined if you'll get to see my male rear. Maybe, maybe, who knows?"
After seeing so much of Brown's chiselled upper body, one fan asked if the Emmy award-winning star would be flashing his bum on the new season of the show. The 41 year old did not seem to keen on the idea though. "No, it's too much. Like, honestly, I saw it one time and it's so black and so full, that the arc would look like a lunar eclipse," he explained. "Another time, another time... Once every 14 years."
Brown, Ventimiglia and Moore return to their roles as the Pearsons in season 2 of This is Us which premieres on 26 September at 9 pm ET/PT on NBC.
© Copyright IBTimes 2023. All rights reserved.