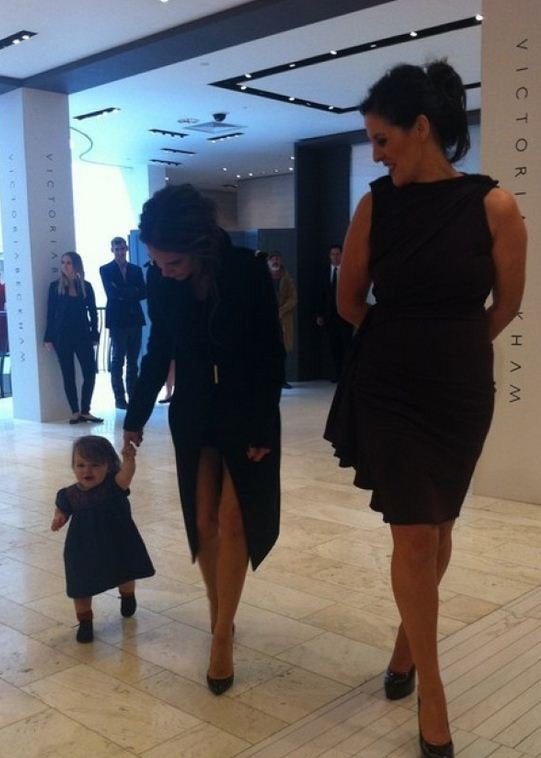 Victoria Beckham's daughter, Harper Seven, just celebrated her first birthday on 10 July and the young Beckham is already up on her feet!
The adorable tot, who was recently voted the most stylish celebrity child, was seen taking her first steps, with a little help from her designer mother, and had a charming smile on her face... enough to conquer all. Harper was dolled up in a designer navy blue-embroidered dress and black shoes.
The photograph was posted on Twitter by Caroline Kennedy, the Managing Director of a luxury and lifestyle PR agency called Kennedy PR, based in Dublin, with this message: "There's a very small girl called Harper in the house!"
Victoria Beckham and Harper Seven were in Ireland for a presentation at the Brown Thomas department store in Grafton Street, one of the first stores in the world to stock Victoria's clothing line when it was launched. The 38 year old former singer opted for a fitted black coat and earlier tweeted images of herself getting ready for the event. These included a photograph of completing make-up while inside her private jet.
"Getting ready for my presentation at @brownthomas love being in Dublin!!!" Victoria tweeted.
During the event itself Victoria tweeted a photograph of herself kneeling next to a little girl, with the caption: "Super young fashionistas in Dublin!!"
Meanwhile, back home in Los Angeles, Victoria's husband, former Manchester United and Real Madrid star David Beckham described the joys of spending time with his daughter; the couple also have three sons - Brooklyn, Romeo and Cruz.
"She's a chunky little thing! It's great, I love to bite her legs, her shoulders. It's how a baby should be. She's so beautiful.," Beckham was quoted as saying, "There's no more love for a daughter than there is a son, but it's just different."
Harper, we need hardly add, is a popular celebrity baby and, in fact, was offered her first modelling contract some time ago. It seems personalised baby gift retail Web site My1stYears.com, approached the Beckham family with a proposal for Harper to be the new face of their store.
Check out Harper Seven's first baby steps...