Harrison Ford is said to be recovering 'remarkably well' after being involved in a plane crash last month.
The 72-year-old suffered a laceration in his scalp and broken pelvis and ankle when his vintage World War 2 solo aircraft crashed into Penmar golf course in Venice California on 5 March, after the engine failed mid-flight.
The aircraft plunged 3,000ft and hit a tree on the way down. The actor was found bleeding heavily as a result of a head wound.
Ford returned home earlier this week and his Indiana Jones producer Frank Marshall told Variety he is feeling much better and even expressed a desire for a game of tennis.
"I talked to him yesterday and he's doing really well. He's pretty banged up, but he's recovering remarkably. He wants to play tennis."
A licensed pilot with twenty years of flight experience, the actor's quick thinking almost certainly saved lives. As the plane malfunctioned, he quickly realised he would be unable to make it to the runway at Santa Monica Airport. To ensure the safety of people on the ground, he swerved the plane into the golf course, saving others while risking his own life.
Marshall said it was the kind of heroism synonymous with the on-screen characters he portrays in the movies and typical of Ford himself.
"That's the thing you would expect him to do in a movie, but he did it in real life! He's a really good pilot. I've talked to a lot of pilots who said that was a hell of a landing and he did everything correct in that situation. He made an incredible landing, to his credit. He is, after all, Indiana Jones," he added.
While Harrison is "resting in the comfort of his own home," the Indiana Jones star is yet to undergo therapy to treat his broken pelvis.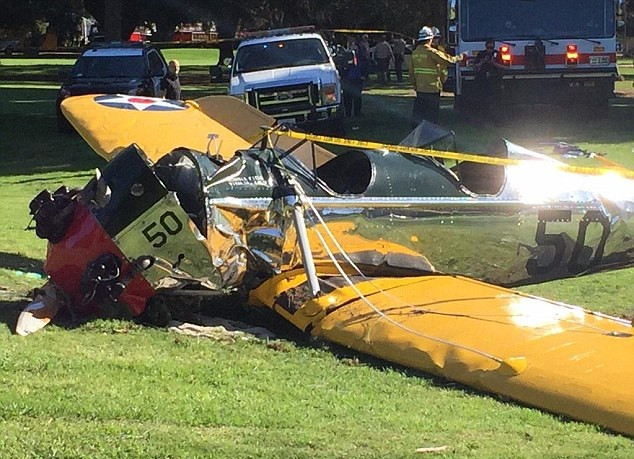 Describing the recovery process, Dr. Beny Charchian, founder of the Joint and Spine Institute in Beverly Hills said: "The therapy is primarily stabilisation exercises and also gait training, like actually getting the patient up and moving again – pretty much just leaving how to walk while minimizing the main."
A preliminary report from the National Transportation Safety Board revealed that the crash was caused by 'substantial damage following a loss of engine power.'
The Star Wars actor - who has four adult children from previous marriages and 14-year-old Liam with wife Calista Flockhart - survived the crash thanks to his 'incredible' flying skills.
An aviation enthusiast, Ford was previously involved in a crash during a flight in October 1999 when a helicopter piloted by the actor crashed near Santa Clarita. Ford and his instructor escaped the crash with minor injuries, but the helicopter was seriously damaged
In June 2014, the actor was injured while filming the new Star Wars movie. The star suffered an injury to his ankle while filming in London's Pinewood Studios. It is believed a hydraulic garage door fell and hit him causing a fracture to his ankle.