Zetta, a high-end smartphone brand that set itself up as Spain's answer to the iPhone, is suspected of repackaging Xiaomi handsets, passing them off as original products and selling them on at inflated prices. The company has denied the allegations.
Zetta was founded by Spaniard Unai Nieto and Chinese national Eric Cui in April 2014 to create the first ever smartphone from Extremadura, a sparsely populated mountainous region in western Spain.
The startup's business model revolves around offering a line of high-end home-grown Android smartphones that cost much less than the iPhone and Samsung's Galaxy line of devices. Its logo is the outline of an acorn that has had a bite taken out of it, a clear reference to the Apple logo.
According to Spanish national newspaper El País, the Zetta was well-received when it launched in 2015, selling 1,200 handsets in just a few weeks. As of October 2016, there are seven Zetta stores in Extremadura and the phone can be bought at over 80 retail locations across Spain.
On 15 October, an interview with Nieto was published in El Español, charting his and Cui's rags-to-riches journey from having the idea to make their own smartphone and having all its components manufactured domestically, to their success in putting Spain on the map for mobile technology.
But what should have been a triumph for the startup has quickly turned into a PR nightmare when, on the same day, news broke on Spanish tech forum Forcoches (and picked up by tech site Thegeekhammer) that users who investigated the phone discovered that it was actually a Xiaomi device.
Xiaomi logo and serial number discovered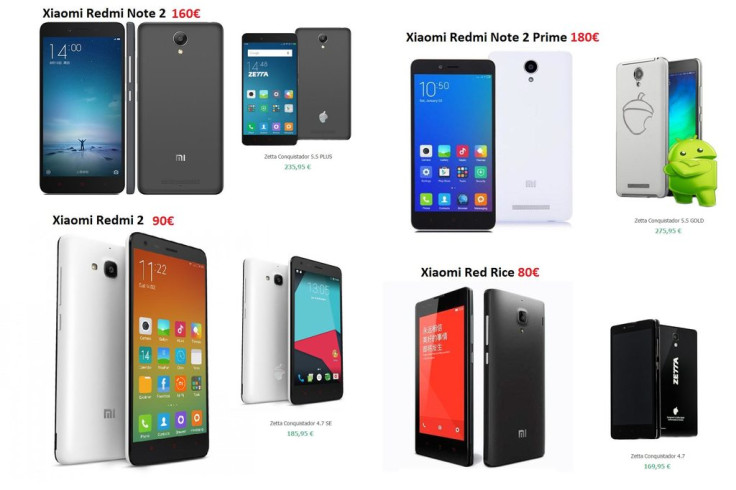 Beneath the battery at the back of the Zetta, there is a sticker. One of the forum users removed the sticker and allegedly found another smaller sticker beneath it with the Xiaomi logo and a serial code. Other users discovered the same thing when they checked their phones.
Thegeekhammer decided to investigate the Android operating system running on the Zetta devices and managed to access Zetta's custom ROM. In the code, they discovered that the phone was seemingly running a version CyanogenMod, an open-source community-maintained custom ROM, that is free only for personal use. Companies that want to use it in a product have to pay to license the Cyanogen OS. IBTimes UK has contacted Cyanogen for comment.
Forum users started comparing Zetta devices to Xiaomi smartphones and found that multiple models looked identical, except for the acorn symbol. They also discovered that a specific phone case made for the Xiaomi smartphones, selling on Chinese shopping sites, was also being sold by Zetta for its device.
The Xiaomi Redmi 2 retails for €90 online. The forum users allege that this device has been rebranded as the Zetta Conquistador 4.7 SE, which retails in Spain for €185.95, while the Ziaomi Redmi Note 2 (€160), is being sold as the Zetta Conquistador 5.5 Plus for €235.95, and the Ziaomi Red Rice (€80) is actually the Zetta Conquistador 4.7 (€169.95).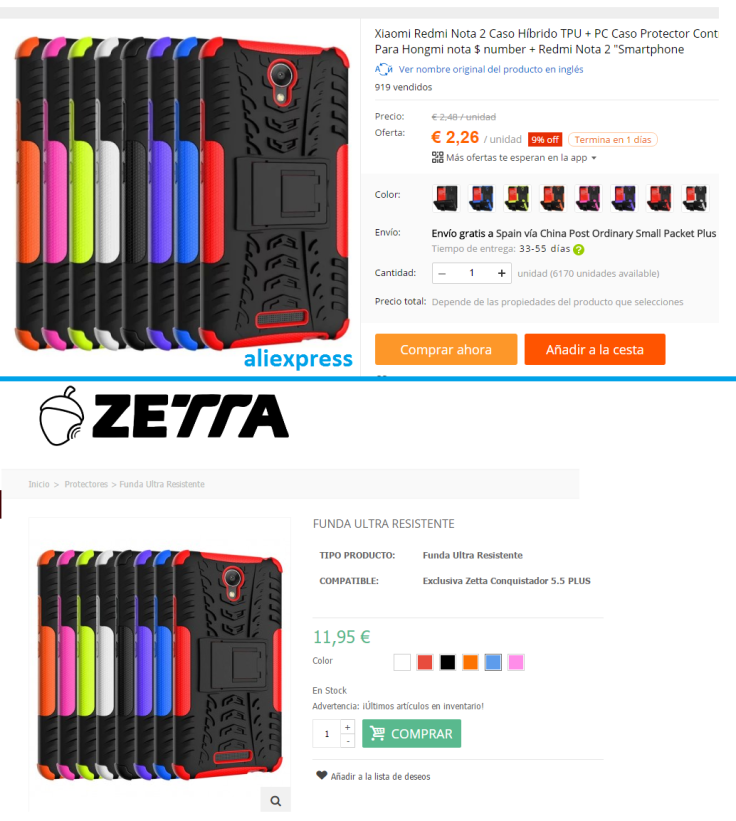 Zetta insists it has done nothing wrong
The article on Thegeekhammer went viral and Spanish national media has now picked up the story. Zetta insists that it has done nothing wrong in a statement:
"Regarding the demonstrations expressed in various forums and media, Zetta Smartphone states that the opinions expressed on the web about this brand are inaccurate," the translated statement on the official website, posted on 18 October at 11am BST, reads.
"The first smartphone this Extremadura company released for sale, the Zetta Multiverse, was designed and made by the company with the support of Chinese production chains. In other models, the company shares electronics with some companies in the Asian sector, and Zetta Smartphone works on improving and adapting smartphone usability for European customers.
"The components of the smartphone from these companies are not practically usable with European networks, so Zetta incorporated software to improving use and added features... Zetta is a small company, with only seven workers, who are humbly working hard to offer Asian technology to be used in Spain and Europe."
Zetta's website intermittently went offline over the weekend, as did its Facebook and Twitter. Its website and Facebook page are now up and running, but its Twitter account @zettaeuropa has been taken offline.
While the website was down on 16 October, Spanish consumer association Facua posted on Twitter: "If you've bought a Zetta cellphone, they have to give you a refund. They've shut down their website. Let's hope that prosecutors and the government of Extremadura will take action."
Facua is now actively calling on Spanish authorities in Extremadura and Madrid – where Zetta has an office – to prosecute the company on allegations of fraud.