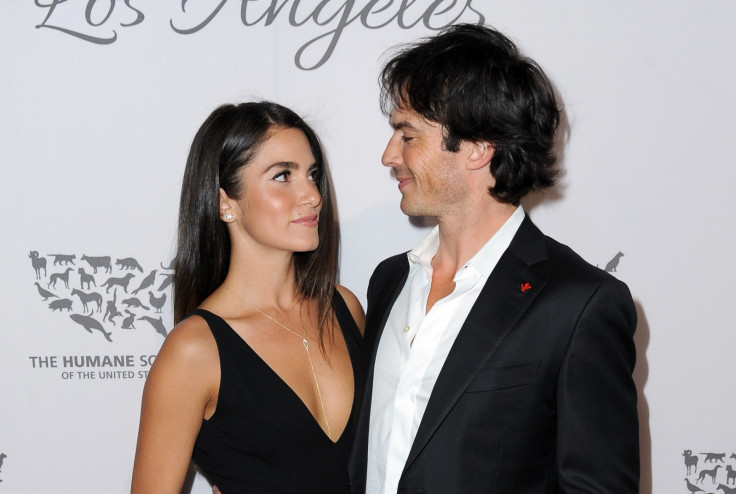 When it came to figuring out the right time to start a family, Vampire Diaries star Ian Somerhalder took matters into his own hands. His wife Nikki Reed, who gave birth to daughter Bodhi Soleil on 25 July, opened up about Somerhalder's shocking move in an interview on Dr. Berlin's Informed Pregnancy podcast.
The Twilight actress said, "He threw out all my birth control pills." Expanding further on his wife's comments, the 38-year-old Lost star explained, "We decided that we wanted to have children together, and it was just time. But unbeknownst to poor Nikki, she didn't realise that I was going to go in her purse and take out her birth control.
"By the way, it was the beginning of the pack, so I had to pop all those suckers out," he added.
Somerhalder also revealed that he has a six-minute video of Reed "freaking out" as he flushed the pills down the toilet. "Actually, now thinking about it, I guess I kind of decided [to start a family]," he quipped.
The couple, who tied the knot in Malibu in April 2015, admitted to having trouble deciding between a home or hospital delivery. She explained on the podcast, "The birth that I always wanted was a home birth with no lights, no one talking, no intervention of any kind. I wanted it to be peaceful, quiet, alone."
Although the new mum gave birth to Bodhi in a hospital, the family of three still managed to get their quiet time.
During her interview with Fit Pregnancy back in August, the 29-year-old actress had revealed that they would not entertain any visitors and would turn off their phones to spend time with their baby.
"After the baby arrives, we're doing one month of silence. Just the three of us, no visitors, and we're turning off our phones too, so there's no expectation for us to communicate. Otherwise, every five minutes it would be, 'How are you feeling? Can we have a picture?' You don't get those first 30 days back, and we want to be fully present," she had said.