Tennis star Heather Watson secured a place in the world's top 50 after becoming the first British woman for 24 years to claim a WTA title at the Japan Open.
The 20 year old overcame Chinese Taipei player Chang Kai-Chen in the final following three gruelling sets to eclipse Sara Gomer's victory in 1988, and leapfrog Laura Robson to become the British No.1.
Watson' victory propels her to 50th in the WTA world rankings in her final tournament of the year, while Robson is 52nd. The win provides the ideal finale to a successful 2012.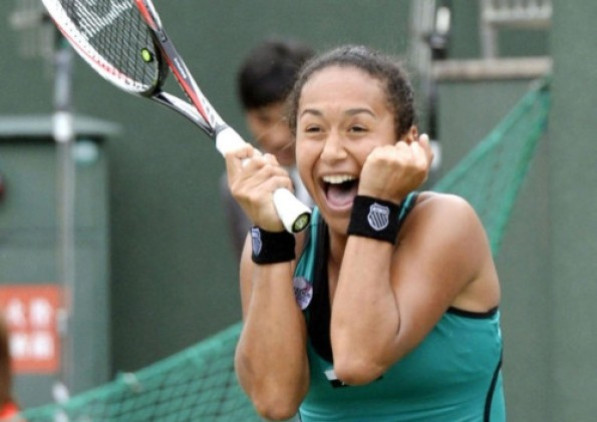 "I really wanted to do well this week, so I could earn my rest next week because this is my last tournament of the year," said Watson. "I don't think I could have ended it any better.
"Being in the top 50 was a real goal for me and it will push me to make harder goals for myself. I'm excited to have a break but I am looking forward to working hard again because it motivates me to achieve more."
The match was "so close from start to finish," added Watson, who revealed she had questioned whether she really had won in the changing room afterwards.
"She was playing unbelievably and I just had to hang in there. I've worked a lot on being more aggressive but I also had to use my defensive skills.
"When I was three match points down and she was serving for the match, I just thought 'Oh no'. But I just took it point by point. I don't know how I did it but I did. This ranks as one of the best days of my life.
"Britain has been breaking quite a few records recently, so I'm happy I could break another one today and I'm proud to do this for my country."
However, US Open and Olympic champion Andy Murray couldn't mirror Watson's success in the Shanghai Masters final, after losing in three sets to world No.2 Novak Djokovic.
In a repeat of the US Open final at Flushing Meadows last month, Murray served for the match at a set and 5-3 in the second, but the Serbian rallied to take the match into a third set.
And having saved five match points, Djokovic wasn't going to be denied and he claimed the third set 6-3, to leave the defending champion Murray frustrated.
You've got to put things in perspective, it's obviously frustrating but it was so close and could obviously have been a different outcome," the 25 year old said.
"Probably having won the US Open may help with having to deal with it a little bit better but it's still obviously disappointing to lose.
"Last year I came away from Asia with three wins, but I didn't win a grand slam and didn't win an Olympics so the year didn't necessarily go as I would have liked but this year I would have signed up for the way I played here having won the US Open."