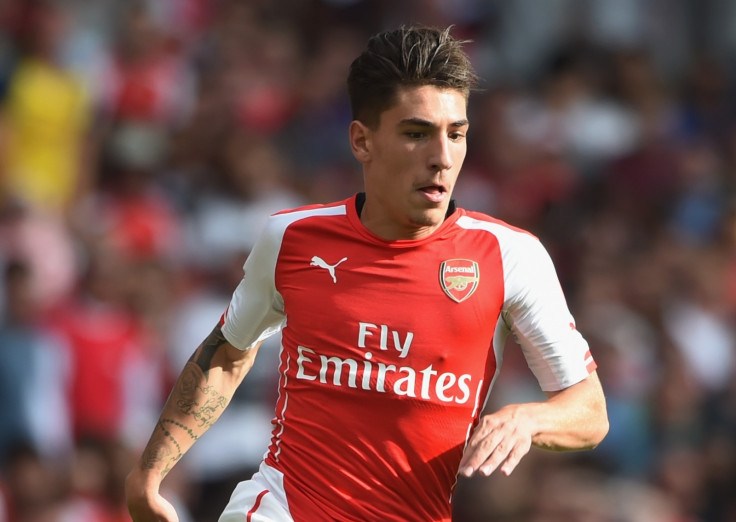 Arsenal starlet Hector Bellerin has revealed he "has been working a lot on the power in his legs" to become the fastest player in Arsene Wenger's ranks.
Reports earlier this season claimed that the 20-year-old right-back had surprisingly broken Theo Walcott's 40m sprint record by 1/100th of a second a during a speed test.
However Wenger then declared that Walcott remained the fastest player at the Emirates Stadium but now the Spanish full-back has confirmed that he did break Walcott's record.
"Some people are born fast. I've always been pretty quick for my whole career. It gets to the point that you have to do something about it. For the past two years I've been working a lot on the power in my legs — all of that has helped me," Bellerin told Arsenal's official website.
"Everything you do off the pitch always shows so you have to work on yourself physically as well, it's not just working on your touch. That's probably the secret. I doubt I'm the fastest player in the world!
"We took a test in the summer and I broke the club record, so I guess I am the fastest at the club but throughout the season injuries come along and you never know whether you are the fastest player at that exact time."
Bellerin's special pace has helped him establish himself in Wenger's line-up during his debut season in the first team.
The former Barcelona academy star has taken advantage of Mathieu Debuchy's absence due to injury throughout the season to become one of the sensations of the campaign, having started 14 Premier League games.
"It was a surprise for me but it proves that the hard work you do behind the scenes helps you on the pitch. I've never raced. I've only ever played football so I've never done athletics. It's helped me throughout my career because speed is a good asset to have," he added.