2 Dead in London Rush Hour Helicopter Crash [VIDEO]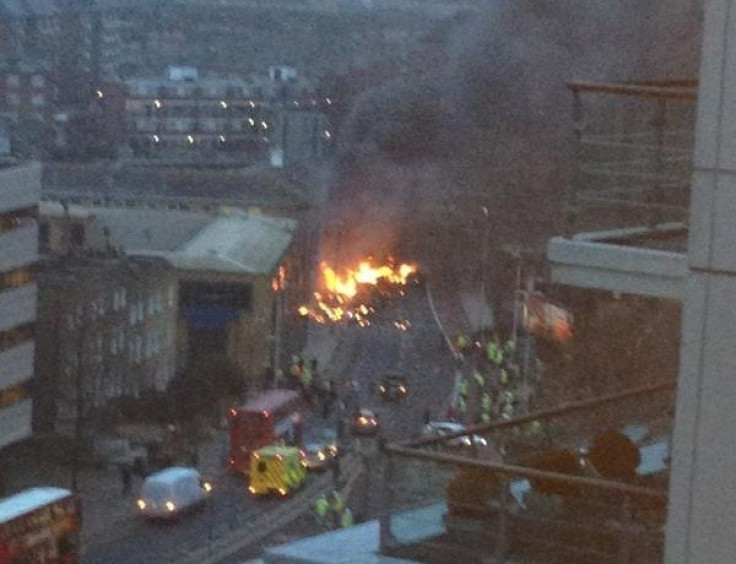 Two people have been confirmed dead after a helicopter crashed in the middle of London during rush-hour. Nine people have been reported injured, one critically, according to police.
The helicopter hit a crane on the St George's Wharf Tower development and erupted in flames as it crashed to the ground on Wandsworth Road, Vauxhall, creating mass panic in the streets below.
It has been reported that one of the dead was the pilot. Eyewitnesses reported a person was hauled from a burning car in the crash zone.
The helicopter hit a crane on the tower, a residental skyscraper overlooking the River Thames. Weather conditions were described as foggy.
Chris Parker, who works as a commercial manager on the building and witnessed the crash, told IBTimes UK at the scene: "I was walking through Vauxhall at about ten to eight, I'd just come out of the station and heard a big bang and creaking metal.
"I saw three people on the pavement, they were sprawled on the ground and looking up, then I saw a helicopter shooting across the sky. It fell and smashed on the ground. People were running away and there was a big explosion.
"It was just surreal, I phoned 999 and then looked up at the crane, saw it had snapped. The police arrived in a couple of minutes."
"It was like an explosion from a film," said another eye witness at nearby New Covent Garden flower market.
The driver of the crane was supposed in his cab when the helicopter hit but was running five minutes late for work, according to reports.
Emergency services were rushed to the scene at 8am, and the blaze is now being tackled by the fire brigade.
A Scotland Yard spokesman said: "We were called at 8am to Vauxhall Brige Road and we have units on the scene dealing with it."
See inside the luxury tower block for millionaires at heart of helicopter tragedy
The Metropolitan Police denied the helicopter belonged to the force, and authorities have ruled out the possibility of terrorism, despite the the close proximity to the HQ of the Britain's foreign spy service, MI6.
"There's nothing in our world at this stage," a spokesman for London's Counter Terrorism Command said. "There's nothing to suggest any terrorism link."
Vauxhall tube station close to the scene is currently closed. A firefighter at the scene told IB imes UK that it is likely the station will be shut for the rest of the day.
Network Rail said overground trains were not stopping at Vauxhall on the advice of police. A spokesman reported "slight delays."
READ: London Helicopter Crash: Rush-Hour Chaos in Vauxhall [PHOTOS]
London Helicopter Crash: Eyewitnesses Tell of Mass Panic After Vauxhall Disaster
London Helicopter Crash: Vauxhall Resident Raised Fears over No Lights on Crane Months Ago
© Copyright IBTimes 2023. All rights reserved.