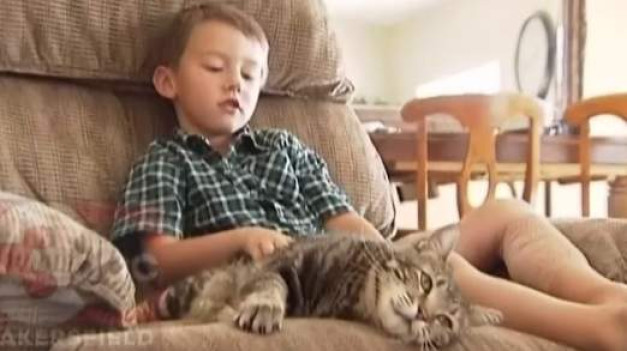 The hero cat who saved her owner's four-year-old son from a vicious dog attack is to be honoured at a baseball game next week.
And that's not all. Tara the cat will throw the first pitch at The Bakersfield Blaze minor league team, though how a cat might throw a baseball is being kept under wraps for the moment.
The team's press spokesman, Dan Besbris said: "I don't want to go into too much detail, but we do have a trick up our sleeves and the cat will complete a pitch, unless the cat freaks out and runs off the field.
"If the cat is willing to stay stationary, we'll get that ball from pitcher's mound to home plate."
Tara the tabby became an internet sensation when she was captured on a home CCTV system chasing off a dog to protect her young owner.
In the footage of her courageous rescue, entitled 'My cat saved my son' Jeremy Triantafilo is seen riding his bicycle in the driveway of his parents' home in Bakersfield, California, when a neighbour's dog pounces, biting his leg.
Springing into action, Tara leapt to the young boy's defence sending the dog running away with his tail between his legs.
The Triantafilos, are also expected to attend the baseball game as the family cat basks in a moment of glory.
Every year more than 4.5 million Americans - more than half of them children - are bitten by dogs, according to the American Humane Association.