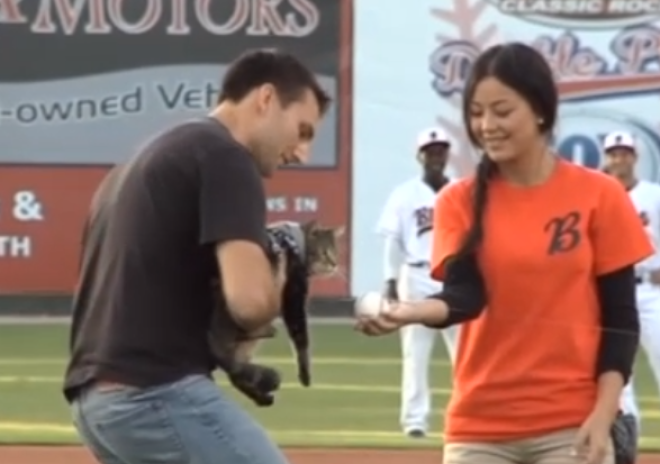 Tara the heroine cat was honoured at a baseball game for saving a young child from a dog attack.
The feisty feline got to throw the first pitch for the Bakersfield Blaze minor league team to mark her saving her owner's four-year-old son.
It happened after the cat became a YouTube sensation when a video of her chasing off a vicious dog went viral.
Ok, so Tara did not exactly send the ball fizzing toward the b atter, but she still managed to draw three times more spectators than usual to the fixture.
Jeremy Triantafilo posted online a video entitled "My cat saved my Son" showing his small boy being attacked by a dog on the driveway of his home.
The dog bit Jeremy and then dragged him off his bike, only for Tara to leap in and send the dog packing. Footage of the furry vigilante's feat has racked up millions of views on the web.
Speaking after the incident, Jeremy said: "Tara is my hero." The dog, which belonged to a neighbour, was captured and destroyed.
To see footage of Tara's heroic rescue, click here.