Heroic pensioner uses suitcase to shield his family from machete-wielding moped muggers
Thugs ripped gold necklaces from women's necks in broad daylight.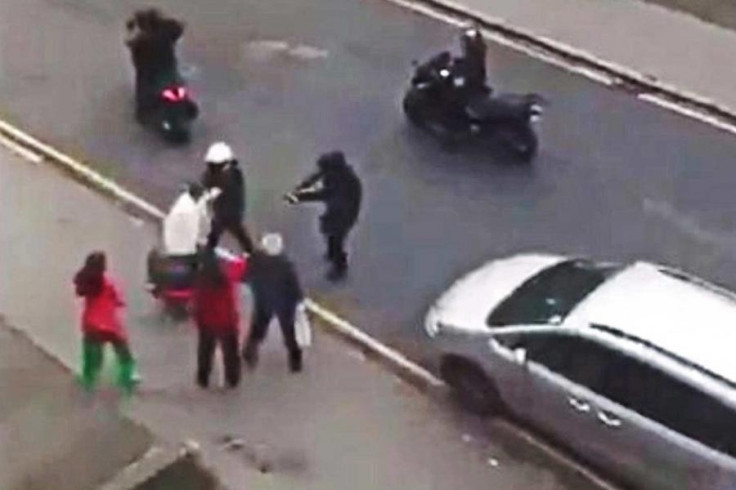 A heroic pensioner used his suitcase to ward off a machete-wielding gang who brutally attacked his relatives in Thornton Heath on Wednesday (20 September).
The 73-year-old was visiting his brother and sister-in-law in south London when a masked man armed with a foot-long knife approached them and demanded that the two women give him all their jewellery.
He was accompanied by several other masked men on mopeds.
A video shared on social media shows the pensioner beating back the thugs with an empty suitcase, shielding his wife and two relatives from danger.
The thugs pushed the elderly man to the ground before snatching three gold necklaces - worth thousands of pounds - from the women and fleeing the scene on their mopeds.
The man, who wished to remain anonymous, was taken to hospital with head injuries. He told the Evening Standard: "I tried to use [the suitcase] to shield the ladies from the man with the knife. Sometimes offence is the best defence.
"But they pushed me to the floor hard and I hit my head on the footpath. Blood was oozing from my head and my glasses broke," he said. "My wife handed her chain to him and they got on the two mopeds and drove off."
"It is a shame because the suitcase was bought to take all these sweet memories of London home, but this has marred everything," he added.
His wife said that she was screaming loudly but that no one came to help. "One of the men grabbed my chain from behind and I was crying, 'Help me'. My sister-in-law was panicked and he then demanded her chain too and she gave it him.
"The chains are like wedding rings and I have had mine for 47 years. It's the sentimental value. I'm numb by what's happened," she said.
Police are appealing for witnesses to come forward. They described three of the suspects as white men and one as black. All four were wearing masks and helmets.
© Copyright IBTimes 2023. All rights reserved.