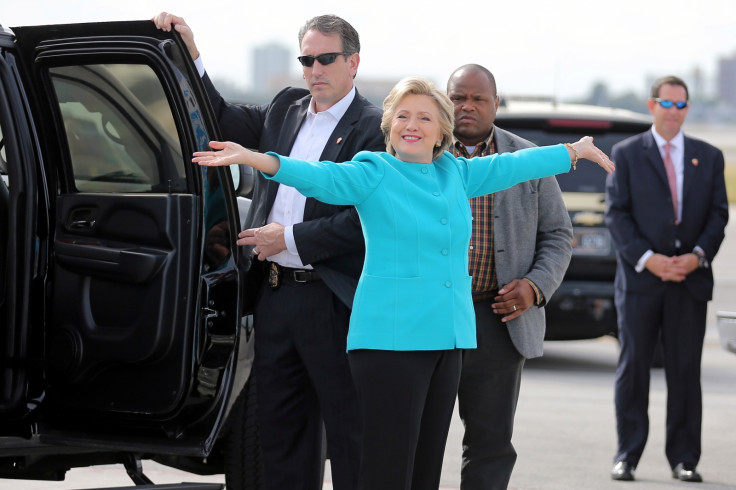 Hillary Clinton celebrated her 69th birthday on Wednesday, 26 October and while she did spend the day campaigning in Florida, her friends and supporters in Hollywood stepped-in to wish the Democratic presidential nominee.
Musical legend Stevie Wonder made a surprise appearance during Clinton's interview with The Breakfast Club, sporting a tee shirt with the slogan "1st woman president" across the front and Clinton's name written on the sleeve. He then treated the birthday lady to his 1980 rendition of Happy Birthday.
"I'm really excited to be here and excited to support someone I have had such love and respect for for years," he explained. "Truth be told, I think we as men have had our chance to work it out. It's time to let a woman do it."
Wonder was not the only singer to give Clinton a birthday surprise.
The former secretary of state kicked off the celebrations by attending a concert by Adele in Miami the day before. Despite not being able to vote in the US elections, the British singer also voiced her support for the candidate.
"I've got to be honest with you, I'm really glad I'm not an American at the moment, it's hard work," Adele told her audience. "I wouldn't know what to do, I mean I do know what to do - don't vote for him, that's all I'm saying."
Clinton showed her appreciation of the endorsement with a tweet that read: "That was quite a birthday surprise, @Adele. Loved the show last night!"
Aside from husband Bill Clinton, daughter Chelsea and running mate Tim Kaine, the president-hopeful also received a number of wishes from Hollywood stars like Elizabeth Banks, George Takei, Michael Moore, Jamie Lee Curtis, Shonda Rhimes and Ellen DeGeneres among others.