Hive, the British Gas smart technology company, wants to become the UK's defacto smart home company and to that end, it has launched its second generation smart thermostat and has outlined its road map of future products which will include smart lightbulbs, motion sensors and potentially even a connected camera.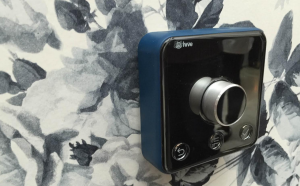 Hive was set up in 2012 by British Gas to bring smart home technology to the masses and not just for the rich and the geeks. Three years later and the world of smart home devices has changed radically with dozens of competing platforms and manufacturers all vying for your money.
Since launching the first Hive Active Heating thermostat in September 2013, the company has signed up over 200,000 users across the UK, making it the largest connected home provider in the country.
Kaiser Hussain, director of connected home at British Gas, said the initial launch of a single product was an attempt not to "bamboozle" customers but to make sure they understood what the technology offered.
Hive Active Heating 3
The company now clearly feels the need to expand and the first move in that direction is Hive Active Heating 2 which is a much bolder piece of deign following collaboration with Yves Behar who has worked on iconic consumer electronics like Jawbone's Jambox speakers and Up fitness trackers as well as Samsung's most recent curved 4K TVs.
The new thermostat certainly stand out, with the central dial allowing you to control the heating, set your schedule and activate the new holiday mode. There are also buttons to allow you quickly boost the heating or water for a set period.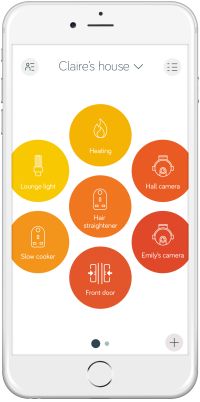 All these features can of course be controlled by the updated Hive app for iOS and Android and while the new thermostat does look a lot better than the original, I'm not sure many people will end up using over the convenience of the app.
Hive is clearly looking to attract the style conscious with the mirrored finish and a series of frames matching the Dulux colour range to suit your living room setup.
Hussain also revealed a series of new features including the ability to control up to three zones in your home and set up to six times slots for each day.
The new thermostat goes on sale today and for current users will cost £99 as an upgrade for a limited period. For new customers the Hive 2 thermostat together with installation costs £249 while the thermostat on its own cost £179.
However it was Hive's announcements of a much wider range of smart home technology which is of much more interest.
The company has not announced pricing for the motion sensor, door and windows sensor and smart plug that go on sale this autumn, but Hussain made it clear that pricing would be attractive to most customers.
The devices integrate with the Hive app and will allow you to use "recipes" which will allow one device to trigger an action in another (eg when you open the door the heating comes on).
All the products are built on the Honeycomb platform, which British Gas acquired when it purchased AlertMe in February this year. This will allow the new products to connect to the existing Hive hub and app. The company said the platform is designed to be open and scalable to enable future integration with partners and developers.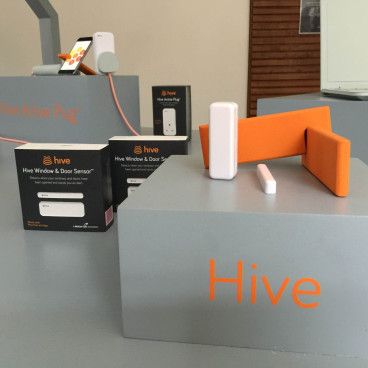 This means that eventually it will look to get third party manufacturers to make devices which will communicate with Hive's devices. The problem is that Honeycomb is just one of the many competing platforms in the smart home market.
Both Google (Brillo and Weave) and Apple (HomeKit) are players in this are and while there is no sign of standardisation coming any time soon, both Apple and Google have significantly more power than British Gas to push their respective platforms.
Maani Safa from mobile solutions company Somo, who worked with Hive on it's new product range, believes we are at a tipping point for the Internet of Things:
"The Internet of Things is fast crossing the conceptual barrier into liveable reality. As an innovation partner, we have worked with Hive to help them bring this to life. In order to make this vision come true, we took some very advanced concepts and expressed them in a way that is accessible to everyone. This includes everything from advising on real world applications, to helping build a theoretical environment to showcase them."
At the moment Hive says it does not support integration with HomeKit but it is looking into the possibility. It also doesn't support Z-Wave accessories meaning you won't be able to integrate any such devices you currently own into Hive's system - for now.
It is clear Hive is investigating a lot of possibilities with its smart home technology but if it can make the technology available to a wider audience then it could have a big future.