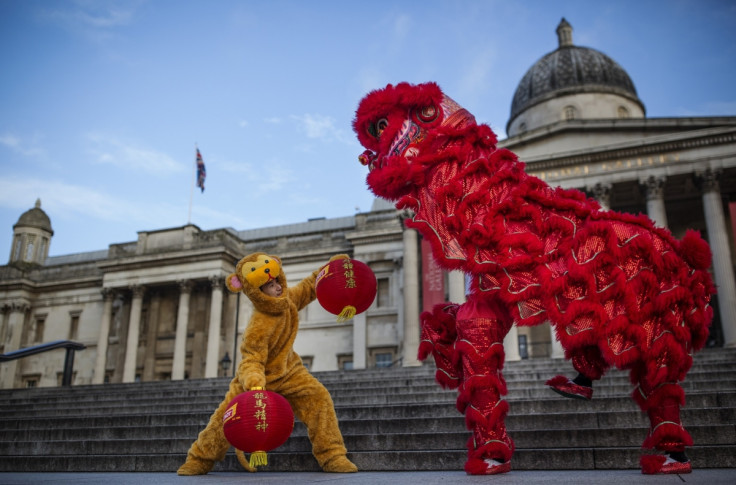 Hundreds of millions of people across the world will celebrate Chinese New Year this weekend with a series of pyrotechnics, festivals and fireworks to mark the year of the monkey. On days three to seven of the new Lunar Year - between 10-14 February - tradition states that the Chinese visit their friends and family.
After that comes the first house sweep of the new year: Chinese don't clean the house the first two days of the New Year. Sweeping then is believed to sweep away the good luck left by discarded firecrackers, red paper and other wrappers.
For non-Chinese there are a number of events up and down the country, as well as television programmes, specially planned to capture the spirit of the Far East.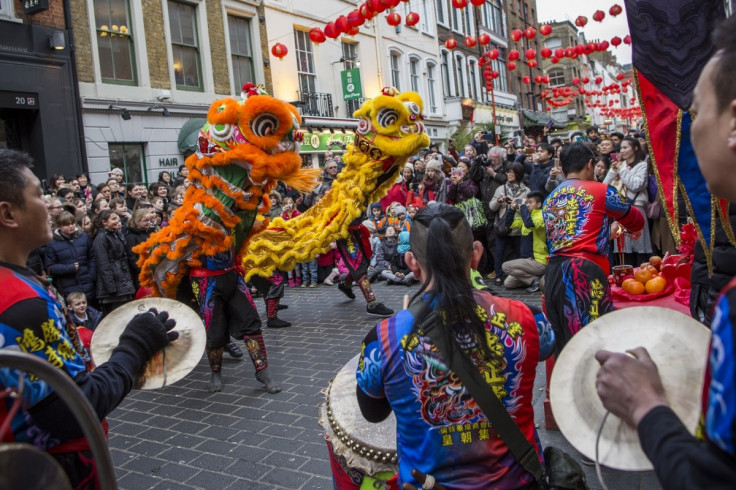 What to do in London
Almost 125,000 Chinese people live in London, making the city the Beijing of the UK and arguably the best place in the country to sample Chinese culture this weekend. The West End will be transformed into a sea of street performers and market stalls with a grand parade kicking things off at Trafalgar Square from 10am on 14 February and meandering all the way to China Town.
The bang of firecrackers will fill the sky at Trafalgar Square at 12pm before the grand finale, which includes monkey dancers and acrobats and pyrotechnics illuminating Nelson's Column at about 5.20pm. Over at Regent Street a traditional Chinese Wishing Treewill be planted on Glasshouse Street from 11am to 3pm.
If you can't wait that long there are plenty of eye-catching events on Saturday. The Rich Mix cinema in Shoreditch, east London, will host a Chinese Association of Tower Hamlets' programme of performances, charity stalls and arts and workshops.
Similar events have also been planned at the V&A Childhood Museum in Bethnal Green and the National Maritime Museum in Greenwich will explore trade and cultural links between Britain and Asia. The UK's first Chinese Lantern festival continues at Chiswick House and Garden. More than 50 giant lanterns are on display, including a 60m-long dragon stretched out across the lake.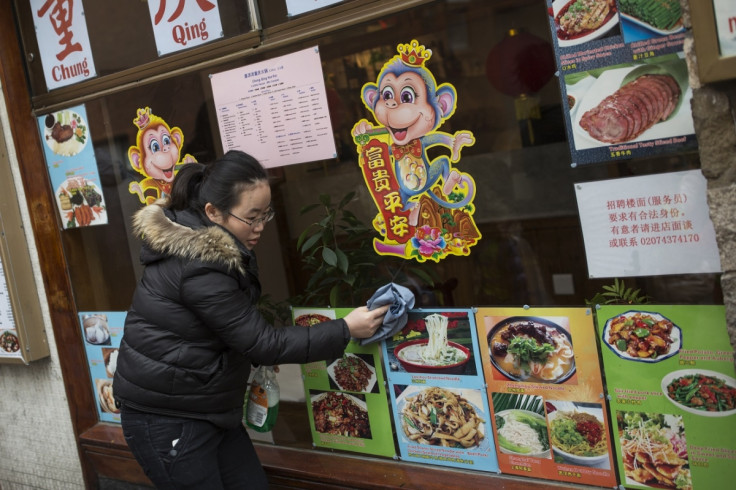 All those visuals are bound to leave any spectators with an appetite. Here is where the China Town community website recommends you try out:
Baozi Inn (26 Newport Court) is a charming diner serving traditional street food from Northern China, including baozi (steamed buns), dumplings with chilli oil and noodle broths.
Shuang Shuang (64 Shaftesbury Avenue) recently opened and quickly gained acclaim as London's first-ever specialist Chinese hot pot restaurant. Choose from five different hot pot styles, each representing China's diverse food cultures and build your own dish.
Beijing Dumpling (23 Lisle Street) specialises in these tasty parcels and often has crowds watching the chefs at work through the window. Ideal for those who like to try a little of everything, the menu offers a wide range of tasty Cantonese dishes.
Orient London (15 Wardour Street) boasts an elegant setting for the authentic Cantonese and Szechuan cuisine. The impressive menu also offers a dedicated dim sum section and selection of Chinese desserts – you won't go hungry here.
What's happening: Sunday 14 February 2016

The 66m-long dragon lantern during the opening night of the Magical Lantern Festival at Chiswick House And Gardens

Getty

10am Grand parade
Commencing North of Trafalgar Square, ending on Shaftesbury Avenue

Trafalgar Square

11am Screen Shows

11am Thanksgiving Ceremony

12pm Firecrackers to greet the New Year

12pm Speeches
Mr. CT Tang OBE, LCCA Chairman & President
His Exc. Liu Xiaoming, Chinese Ambassador to the UK
Roger Evans AM, Deputy Mayor of London
Cllr. The Lady Christabel Flight, Lord Mayor of Westminster
Rt. Hon. Mark Field MP, Cities of London & Westminster

12.30pm Dragon's Eyes Dotting Ceremony
VIPs dot the eyes of the dragons to symbolically bring them to life

1pm Flying Lion dance and Dragon Dance

1.30pm Chinese Variety Show by 'Cultures of China: Festival of Spring'
Featuring acrobatics, martial arts and dance

2.45pm Beijing Young Cultural Ambassadors

A music performance by children from Beijing

3.15pm Chongqing Chuanju Theatre Performance
A form of Chinese opera from the Sichuan region, featuring singing acrobatics and dance

4.30pm Windpipe Ensemble
A musical performance on traditional Chinese instruments

5pm Yellow Earth Theatre and the UK Chinese Choir
An uplifting music theatre performance

5.25pm-6pm Finale
Visuals and musical performances featuring the legend of the Monkey King, ending with pyrotechnics and a light show on Nelson's Column

Chinatown

12pm-5.30pm Lion dance and photo opportunities with Chinese zodiac animals

Shaftesbury Avenue

12.30pm-4.30pm Stage Show
Lion Dance, Lucky Money God, traditional Chinese dance, Canto-pop and Chinese Orchestra and Magic show

Leicester Square

12.30pm-5.30pm Traditional Chinese light display, stalls

Charing Cross Road

12.30pm-4pm Family friendly area
Performances and children's activities, face painting etc.
Where to watch - BBC1 Chinese New Year 2016 – The Biggest Celebration On Earth, BBC2, Sunday, 9pm (GMT)
Kate Humble, Ant Anstead and Jing Lusi are joined by the Hairy Bikers in the first episode of a three-part series exploring Chinese cultures. Tonight, viewers can see what happens when people celebrate in temperatures -30C at the Harbin Ice and Snow Festival and watch as the presenters experience the mania of rush hour in Beijing.