Thousands of people gathered in London's West End to watch the annual parade celebrating Chinese New Year. Families lined the route to welcome in the Year of the Monkey at the biggest Lunar New Year celebrations in Europe, and – according to tourism officials – the biggest in the world outside China.
A dragon wound its way through the streets of the capital as performers banged traditional drums, creating a flurry of noise and colour. A group of 10 teams performed the biggest lion dance ever seen in a public parade in Europe. Young children held miniature dragon puppets and took pictures as the parade made its way from Trafalgar Square past the city's historic Chinatown.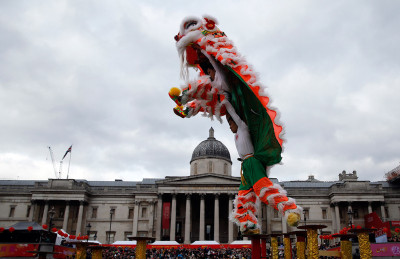 Almost 125,000 Chinese people live in London, making the city the Beijing of the UK and arguably the best place in the country to sample Chinese culture. One of the capital's most beautiful gardens is being illuminated with hundreds of Chinese lanterns to welcome the Lunar New Year. The Magical Lantern Festival features an Imperial Palace, a Terracotta Army and a 66m-long dragon in the gardens of Chiswick House.
The Year of the Monkey began on 8 February 2016 and will end on 27 January 2017, when it will be time for Year of the Rooster.