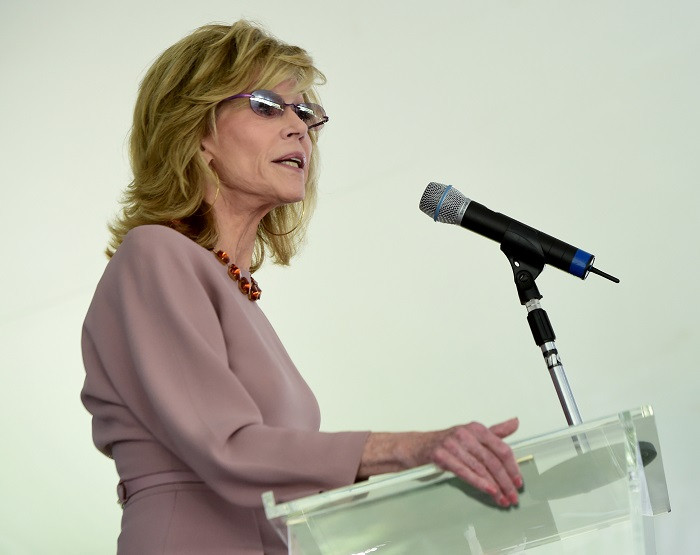 Hollywood actress and activist Jane Fonda has revealed that she was raped as a child. In a candid interview with fellow actress Brie Larson for The EDIT magazine, the 79-year-old opened up about being sexually abused as a child.
Discussing issues of feminism and patriarchy with Larson ahead of International Women's Day, the two-time Oscar winner said that the abuse and exploitation of women is endemic in society.
"To show you the extent to which a patriarchy takes a toll on females; I've been raped, I've been sexually abused as a child and I've been fired because I wouldn't sleep with my boss and I always thought it was my fault; that I didn't do or say the right thing," she explained.
While the mother-of-three did not reveal who raped her, she expressed her fears for young girls who are conditioned to believe that sexual abuse is their fault.
"I know young girls who've been raped and didn't even know it was rape," she says. "They think, 'It must have been because I said 'no' the wrong way.' "
"One of the great things the women's movement has done is to make us realise that [rape and abuse is] not our fault. We were violated and it's not right."
In September 2014, Fonda revealed that her mother Frances Ford Seymour, who committed suicide when Fonda was 12, had also been sexually abused.
She made the personal revelation as she hosted an event celebrating the 40th anniversary of the Rape Treatment Centre, which provides comprehensive free treatment for sexual assault victims. She revealed that she made the shocking discovery that her mother had been sexually abused when she was just eight years old, while reviewing medical records as she wrote her memoirs My Life So Far.
"The minute that I read that, everything fell into place," she said. "I knew why the promiscuity, the endless plastic surgery, the guilt, the inability to love or be intimate, and I was able to forgive her and forgive myself."
She said sexual violence is 'epidemic' and vowed: "I will support the Rape Treatment Centre for the rest of my life."
The activist and movie star has received seven Oscar nominations, winning the coveted award for her roles in Klute and Coming Home, over the course of a six-decade movie career. In addition to acting and activism, Jane has also released 27 fitness videos selling a combined total of more than 17 million copies.