With just two episodes to go, Homeland season 4 is inching towards a nail biting season finale.
In 13 Hours in Islamabad, Haqqani and his team infiltrate the US Embassy in Pakistan, kill 36 CIA officials and retrieve the list of CIA assets in Islamabad. Carrie and Saul make it alive after the twin Grenade blast, only to be attacked by a sniper terrorist.
In episode 11, titled Krieg Nicht Lieb, "Carrie puts her life on the line to get her team out of Pakistan."
The pre-finale episode will focus on Carrie trying to locate Quinn who has gone off the radar, and bring him back to the United States.
The previous episode, aired on 7 December, started with a blast on a convoy, where Carrie and Saul were left injured and under attack by another Talibani sniper.
On the other hand, it is a bloodbath for the Americans back at the embassy, as Haqqani and his forces infiltrate the Embassy with the help of Dennis. Luckily Ambassador Boyd Lockhart and Peter Quinn, escape the attack after Martha informed them about it in advance.
While, Quinn, wasted no time in getting down to action, after teaming up with a young soldier to take down Haqqani's men.
Lockhart, was quick enough to move away and lock himself in the panic room along with Martha, other US diplomats and a classified information file.
However, after Haqqani shot two of CIA's men in the head right outside the vault, Lockhart crumbled.
When the Al Qaeda leader held a knife at CIA analyst Fara Sherazi's neck, he decided to give the documents up that contains a list of all CIA assets in Pakistan.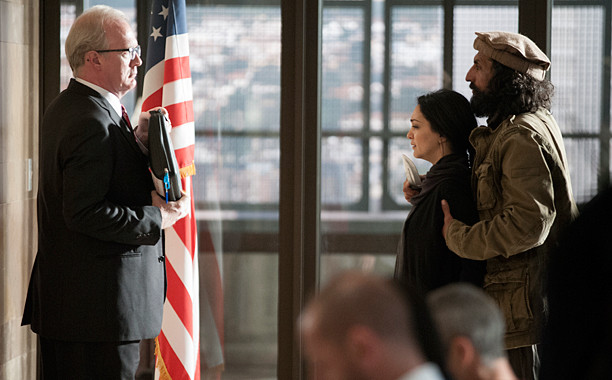 Even after the files were handed over to Haqqani, he mercilessly killed Fara by plunging the knife into her stomach.
After the whole ordeal, Carrie and Saul make it back to the embassy, only to find a terrorist flag waving outside the building.
Later, Lockhart delivers the news that the president is closing down the embassy and wants Carrie and his team shipped out to US by the morning, but Quinn disagrees and goes rogue in his rage to find Haqqani.
He reminds Carrie, "She brought him back for this. He's not going to leave the job half done."
When Carrie realised Quinn is missing, she gets the permission from Senator Andrew Lockhart to stay in Pakistan for five more days without government protection.
Will she be able to find Quinn and bring him to safety before he gets killed?
The new promo shows that Quinn has completely turned to the dark side, and the Pakistani Intelligence Agency has given shoot-at-sight orders for the CIA agent.
With her former team not on her side, Carrie goes to Aasar Khan for backup.
With Asar's role as the ISI's counter-terrorism chief and Quinn's status on the watch list, will he help Carrie, is what we need to wait and watch in the upcoming episode.
Carrie tells Aasar in the promo, "He (Quinn) thinks he can fix this by himself, but all he can do is get himself killed."
"It's his head or mine," Aasar responds.
While it's unsure how Quinn's mission will end, one thing is certain; Carrie will find him.
"For once in your life, you need to listen," Quinn tells Carrie while grabbing her throat.
The short trailer also shows Quinn making some major move against the terrorist leader.
In another promo, Peter reaches out to an old contact to help nab Haqqani.
When she questions him going against Embassy orders, he replies, "There was a Taliban flag waving over my head, I can't let that stand."
Watch the promo and clips released here:
Watch Homeland season 4 episode 11 on Sunday, 14 December at 9pm on Showtime.