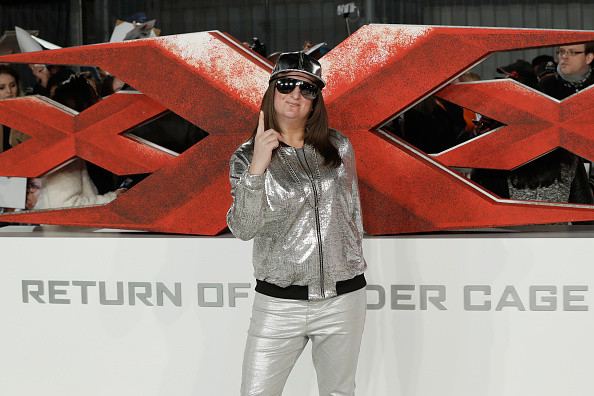 Honey G has said she has had enough of her detractors and will never give up on her dream of becoming a global rap artist.
The self-styled rapper who came fifth in this year's X Factor left the audience divided, winning fans for her brazen ambition and her infectious raps, and facing criticism for her performances amid accusations of cultural appropriation.
But the 35-year-old from North Weezy remains undeterred. Attending the European premiere of xXx: Return of Xander Cage at the O2 on Tuesday (10 January) Honey G told IBTimes UK she is bolstered by her success on the TV reality show and will keep pursuing her dream.
"I'm at the point where we really need to teach the haters a lesson now," she explained. "I've been a strong woman and a musician the whole of my life. So this is the next step for me to become a global rap artist, to sell millions of records. I'm a bit like the ride or die b****h. I'm very determined, very resilient. I'll never give up. I'm clearly determined to become a major recording artist."
While her debut single The Honey G show entered the charts at number 149, Honey is unconcerned by the poor reception to the track and firmly believes she will one day work with rap royalty.
"Ideally I wanna start collaborating with artists like Missy Elliot, Jay Z, Lil Wayne, Timberland, Alicia Keys, Mary J Blige," she revealed. "I'm not afraid to say who I am and what I stand for and that's probably along the hip-hop style route as opposed to the pop route."
The former IT recruitment manager has won fans in Robbie Williams and bonafide rap artists Snoop Dogg and 50 Cent. In contrast she faced flack from Lily Allen who branded her 'offensive', accusing her of appropriating black culture, while rapper Professor Green said that the gimmick had 'gone too far' and her presence in the TV singing contest was jeopardising real talents.
Former X Factor winners Little Mix's Jesy Nelson branded her "an actress" recruited to bolster the flagging ratings of the TV show.
Slamming the haters Honey said her unshakeable self-belief and her passion for music is her driving force.
And while she is prepared to take on the haters in a bid to realise her dream, she said she draws the line at taking on Vin Diesel. "I've seen a picture of him and he looks like a pretty strong man," she said.
Among the other British acts attending the European premiere of the action film were X Factor winner Matt Terry, finalists 5 After Midnight, magician Dynamo and Katie Price.