It's all over for Honey G. As the nation breathes a collective sigh of relief, the controversial X Factor star is most likely already on her way home to North Weezy after being voted off the talent show.
Preparing to face her in the sing-off, 5 After Midnight looked defeated, bearing in mind Honey G's track record for winning the public vote and sending far more talented acts home.
Striding onto the stage with all the swagger of a champion, Honey G was not going to go quietly. Performing Tupac's California, she reverted to using her repetitive catchphrase - "I say 'Honey'! You say 'G'!" - brazenly basking in her final moment of glory.
But this time the decision fell on the judges, and barring Over-25s mentor Sharon Osbourne, none of them could possibly overlook the talents of the all-singing, all-dancing boy band trio for the self-professed rap artist.
Singing Labrinth's Beneath Your Beautiful, 5 After Midnight got off to a shaky start, but with a performance devoid of gimmicks or stunts, it was clearly time for Honey G to go.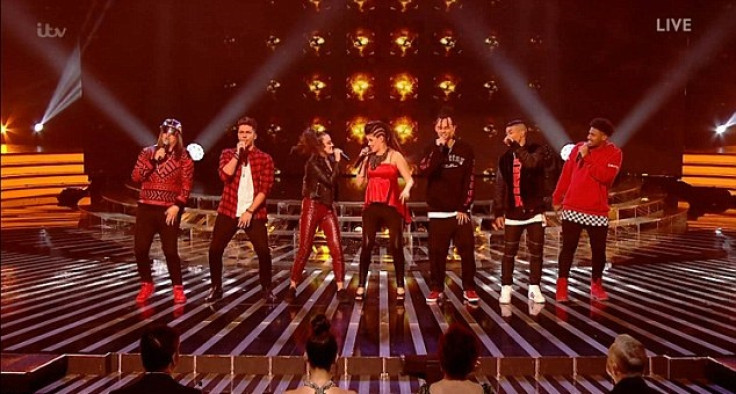 Nicole Scherzinger, who has been known to give the rapper a standing ovation, told her: "Honey I'm sher-mazed you made it this far, you're such a fighter but I'm sorry, I'm sending you home."
The final verdict fell to Simon Cowell, and the music mogul, who has faced criticism for supporting Honey G, whom he described as his guilty pleasure, may have redeemed himself as he finally made the decision to send her home.
"5 After Midnight, you shouldn't be in the final two," he said. "Honey, you've got guts, but here's my issue. The public expect me to do the right thing. You've gone as far as you can. The act I'm going to save is 5 After Midnight."
Making her exit, the wannabe rapper said: "The X Factor team is amazing. This has been the most amazing experience of my life."
Adding a stern rebuke "to the haters", she added defiantly: "To everyone who doubted me, I'm standing here and made it this far."
The talent show star, who in her day job is a recruitment consultant, has divided the public, with many suggesting she was merely an actress brought in to boost ratings. Others, including Professor Green, said she was an embarrassment to the rap fraternity. However, along the way she found fans in Robbie Williams, Martin Kemp and even her idol, Snoop Dogg, who pledged to duet with her if she won.
A stage invasion on Saturday night left her shaken, but did not crush her unshakeable self-belief. It was reported that before leaving the studio, she cornered Simon Cowell and pleaded with him for a record deal.
Honey G might not have made it beyond the quarter-finals of the X Factor, but she has no intention of giving up her dream of becoming the UK's biggest British rap artist.
There's a good chance we haven't seen the end of the rapper from North Weezy yet.