Steve Jobs once claimed that a 3.5in screen on a smartphone was the "perfect size for consumers" and anything bigger would look plain crazy.
Small was beautiful in Jobs' eyes and while many loyal Apple customers agreed, many of those are now looking for the iPhone experience on a grander scale.
The iPhone 5/5s/5c increased the original iPhone size slightly to 4in, but as the rest of the world moved on - viewing 5in screens as the standard for smartphones - Apple looks set to finally embrace the the "big is beautiful" mantra with the iPhone 6.
Blurred lines
For a number of years now the line defining just what constitutes a smartphone and what constitutes a tablet has been blurring, but we may have reached peak confusion recently with the launch of the Fonepad from Asus, which the company describes as a "tablet with phone functions".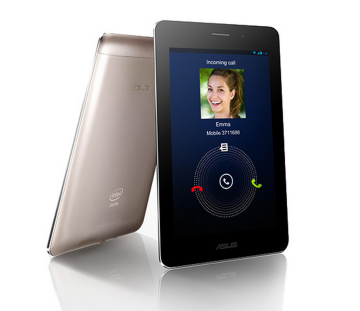 OK, this may be an extreme example to highlight the trend for ever bigger smartphones, but it does serve as an example of just how far the smartphone market has come, and just how far behind Apple now looks with its 4in screen.
The Fonepad clearly looks ridiculous when used as a phone, but it is clear that these days big phones are big business.
According to research firm Canalys, in the first three months of the year, one third of all new smartphones had screens over 5 inches in size.
This market segment grew 369% - a substantially greater rate of growth than the overall market.
"This is still a market segment led by Samsung, but the trend is unmistakably toward larger-screen handsets at the high end of the market. [Samsung] held a 44% share of devices with displays of 5in and above, and 53% if the view is narrowed to look at 5.5in-plus displays," Canalys analyst Jessica Kwee said. "Apple plainly needs a larger-screen smart phone to remain competitive, and it will look to address this in the coming months."
Apple take note
Samsung kicked off the large-screen smartphone craze with the launch of the original Galaxy Note in 2011. At the time its 5.3in screen was seen as monstrous with many laughing and mocking the people who used the device.
Today, a 5.3in screen is seen as relatively normal, with the latest iteration of Samsung's phablet line, the Galaxy Note 3, featuring a huge 5.7in screen. And Samsung isn't the only company looking to cash in on the demand for bigger and bigger screens - Sony has its Xperia Z Ultra; HTC has the One Max and LG has its G2 Pro.
But does Apple really need to compete in this segment of the market? It is still selling iPhones in record numbers so why change?
Yes, Apple's iPhones are still selling in the tens of millions but the rate of growth is slowing and in developed markets it is reaching saturation point.
It now has hundreds of millions of customers in these markets who love the Apple eco-system but who are looking on enviously at friends using large-screen Android smartphones.
This huge customer base currently facing two choices:
Stick with iOS (together with all the apps and games they've bought) and limit themselves to a 4in screen
Move to Android and get the choice of screens from 4in all the way up to the crazy Fonepad at 7in
iPhone 6
Apple under Tim Cook is a much more pragmatic company, and Cook knows he has to offer a larger screened iPhone or risk losing millions of loyal customers to Android.
And so we come to the iPhone 6.
While it won't come near the ridiculous levels of the 7in Fonepad, Apple is widely expected to launch two new models - one will have a 4.7in screen while the second will go straight into the "phablet" category with a 5.5in screen.
This week the Wall Street Journal reported that Apple had put in an order for up to 80 million of its new iPhones, up from the 60 million iPhone 5s/5c order it put in last year. This suggests Apple is expecting a flood of orders for the new phones when they arrive - from both new customers but crucially from existing customers looking to upgrade.
By finally meeting the pent-up market demand for bigger iPhones, the company could be about to launch its most popular - and profitable - products of all time.