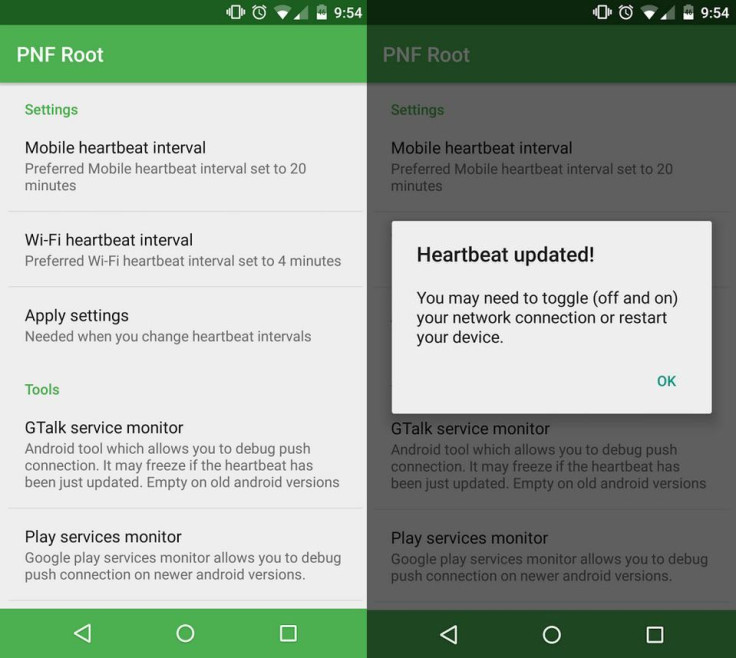 There is a fix available if you are experiencing a delay in receiving notifications on your mobile device.
If you have installed a CyanogenMod ROM or any other custom builds based on CM, you might have come across the issue of delayed notifications from WhatsApp and other apps. It can be resolved easily, if you have rooted your phone, which is a must if you have installed a custom ROM.
There is an app called Root-Push Notifications Fixer (PNF) available to download from Google Play Store. Install the app and try your luck.
Changelog
Version 4.6.3 (2 January, 2015)
Bug fixes for previous version (if something doesn't work, please uninstall and re-install)
Version 4.6 (31 December, 2014)
Root permission fixed for Android 5.0 Lollipop
Support for x86 and mips devices
Material design will come soon
What does this app do?

Push Notification Fixer (PNF) changes the heartbeat-interval numbers. The heartbeat interval it's a mechanism of android that keeps the push connection alive by sending a little network packet at specified intervals. PNF simply updates that interval numbers. By maintaining the push-connection active (for example every 5 minutes), push notifications will arrive on your device instantly.
Simply install the app then accept root permissions and tweak two settings; in the app tap on 'Mobile heartbeat interval' and set it to six minutes, then tap on 'Wi-Fi heartbeat interval' and set it to five minutes.
After choosing the interval timing, select apply. In the end a reboot is required. That's it; you should now receive WhatsApp notifications instantly.
Download: Root-Push Notifications Fixer

Source: AndroidSoul