Thousands of HSBC customers in the UK have been left short of cash ahead of the August bank holiday weekend after the retail bank was hit by an IT glitch on the morning of 28 August. HSBC revealed that 275,000 payments, including those of rival banks' customers, had been affected.
"There has been a fault in the information used to process some payments from HSBC business customers," an HSBC spokesman said. "Approximately 275,000 payments have been affected, including payments to customers of other banks.
"HSBC apologises for the inconvenience this has caused. We are taking immediate steps to ensure the payments reach beneficiaries as quickly as possible. We will work with other banks to ensure that customers do not lose out as a result of today's problems."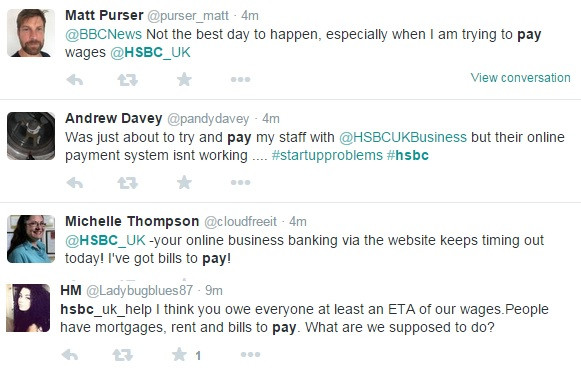 The problem is thought to have hit the Bacs payment system, but a spokesperson for the company said the issue was isolated and the system was operating as normal. Elsewhere, a spokesperson for watchdog the Financial Conduct Authority (FCA) told IBTimes UK that the organisation had been made aware of the IT glitch and was working with HSBC.
The Bank of England, the UK's central bank, said it was in contact with HSBC over the issue and would work closely with HSBC to resolve the problem. But the glitch has left some customers fuming on Twitter, with one user asking the bank: "What are we supposed to do?"