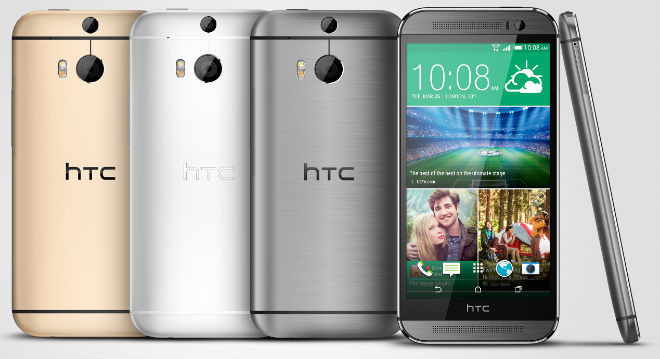 HTC and Sony are both trying valiantly to climb up the smartphone ladder with both producing acclaimed smartphones in 2013.
However acclaim doesn't necessarily translate into sales and so 2014 represents an important year for both companies. Sony showed its hand early with the Xperia Z2, but that still isn't on sale in the UK, while HTC has launched the all-new One (M8) which has immediately gone on sale.
So, it is worth snapping up the 2014 version of the HTC One now, or waiting for Sony's Xperia Z2 to become available?
Let's find out:
---
HTC One M8 vs Xperia Z2: Screen
---
HTC has decided to increased the size of the One's screen by 0.3in, now measuring 5in diagonally. It retains the Full HD pixel resolution of 1080 x 1920, but the increase in size means pixel density has dropped slightly to 440 pixels per inch (ppi) from 468ppi last year.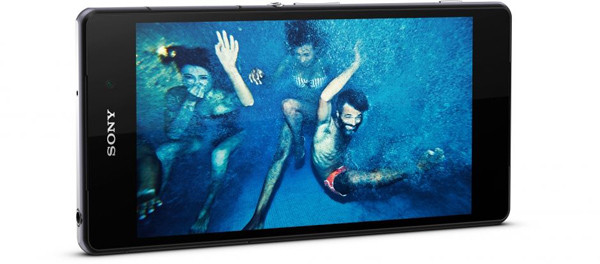 Sony's Xperia Z2 has also seen an increase in screen size to 5.2in and keeping the resolution identical at 1920 x 1080 pixels. Sony will be hoping that its Reality Display and Triluminous technology borrowed from its television will help it stand out from the competition.
---
HTC One M8 vs Xperia Z2: Design
---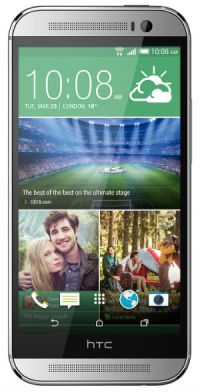 HTC won many admirers for the design of the HTC One last year, with the Taiwanese company using premium materials like aluminium and glass rather than the plastic used by Samsung in its Galaxy devices.
HTC has decided not to tinker much with a winning formula, and while the overall footprint of the phone has increased, it has made the edges more curved to make it feel more comfortable when holding it.
The HTC One M8 is available in gold, silver and grey.
The Xperia Z2 follows Sony's OmniBalance design language with a mixture of glass and aluminium construction but has slimmed down compared to the Z1, with bulk being one of the bigger gripes people had with last year's model.
Both phones are IP67-rated making them water and dust-proof but this does mean you get fiddly flaps covering the microUSB ports.
---
HTC One M8 vs Xperia Z2: Hardware
---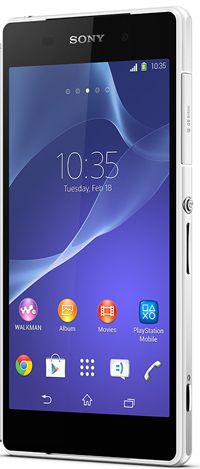 The HTC One is powered by a Qualcomm Snapdragon 801 SoC which features a quad-crow processor clocked at 2.3GHz and an Adreno 330 GPU, all paired with 2GB of RAM. Early benchmarks show this should be a powerhouse of a phone. The phone also continues to feature the front-facing BoomSound speakers, which should mean it remains as the best-sound smartphone on the market.
It is available in 16GB or 32GB models with a microSD card to help expand this.
Sony, like HTC, has updated the chips powering its flagship smartphone, but while this will ensure everything continues to run smoothly, performance issues were not a problem with either of these phone's predecessors.
Sony's unique hardware feature is noise-cancelling earphones. Where regular noise-cancelling headphones need their own batteries and processing hardware to block out the ambient noise of planes and trains, Sony's earphones borrow processing power from the phone itself.
A microphone on the earbuds feeds ambient noise to the phone, which then cancels it out. Sadly the system only works with the earbuds supplied with the phone.
The Xperia Z2 is only available with 16GB storage but you can add up to 128GB via microSD card.
---
HTC One M8 vs Xperia Z2: Software
---
Both the HTC One and the Xperia Z2 are high-end Android phones but unlike the Nexus 5 from LG, both have decided that pure Android is just not good enough.
HTC's One M8 runs the latest version of Android (4.4.2 or KitKat) but has skinned this with Sense 6.0 - it's own updated version of the software. Along with the continued inclusion of feed-aggregator BlinkFeed as the default home screen, the biggest change is the addition of gestures, including double tap to wake, swipe left to launch widgets, swipe up to unlock and using the volume button to launch the camera.
The Xperia Z2's customised interface is much less intrusive with Sony's once again bundling its own apps for films, music and PlayStation Games with the Xperia Z2, but the Sony additions to the software are much less intrusive that HTC's Sense or Samsung's TouchWiz.
---
HTC One M8 vs Xperia Z2: Camera
---
Camera quality is one of the key factor's in customer's deciding which smartphone to buy and that's why both HTC and Sony had sought to differentiate themselves in this area.
HTC will be hoping its Duo Camera will be one of the big selling points for the 2014 version of the HTC One.

The new camera system features two camera sensors, one of which will be used to measure depth, to allow for easier creation of so-called 'bokeh' effects and tweaking the image post-capture. We will have to wait and see if this is just a gimmick or a real benefit for amateur photographers. HTC has also included a dual-LED flash similar to the one on the iPhone 5s to improve low-light images.
Sony continues to use a specially designed 20.7 megapixel camera (also seen on its Z1 Compact model) but this time it's capable of recording 4K video (if that's of interest to you); 120 frames-per-second slow motion mode; Steadyshot to avoid blurry videos and Timeshift burst to take 61 photos in just two seconds.
Basically it boils down to the fact that no matter which phone you buy, you're going to get a very good camera.
---
HTC One M8 vs Xperia Z2: Which Should I Buy?
---
This is a tough one. While deciding between the HTC One M8 and the iPhone 5s comes down to deciding between a large screen phone and a smaller one, deciding between Sony's and HTC's 2014 flagships is a little tougher.
HTC will be hoping its Duo Camera can outperform the Xperia Z2 and that its immaculate design and build quality will continue to win over consumers.
Sony on the other hand will be hoping the Xperia Z2's waterproof credentials along with an excellent screen, slim design and 4K video recording will be enough to grab customer's attention.