HTC Volantis: Google's Next 8.9in Nexus Tablet
Nexus 8.9 to be launched in Q4 2014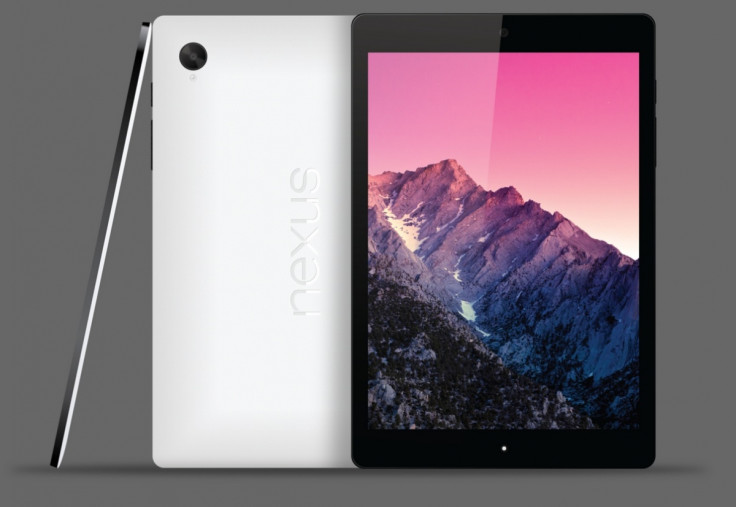 Amid rumours of Google's upcoming Android Silver, which will replace the Nexus series smartphones, new details about the 8.9in Nexus tablet have surfaced.
Android Police has been tipped off by certain sources, revealing the hardware specifications, features and pricing of the Nexus 8.9 apart from providing a purported image of the device.
As rumoured earlier, the 8.9in Nexus will be manufactured by HTC and codenamed Volantis, also known as Flounder.
The tablet is internally referred to as Nexus 9, which is likely to be changed before the market rollout. (Above is a leaked photo of the Google Nexus 8.9 built by HTC.)
Hardware specifications
The new 8.9 in Nexus tablet will sport screen resolution at 2048 x 1440 pixels, giving it a pixel density of 281 pixels per inch (ppi). It will use Nvidia's Logan 64-bit processor called Tegra K1, paired with 2GB RAM. The tablet will be based on aluminium zero-gap construction design.
The Tegra K1 SoC is said to be quite powerful due to the CUDA (Computer Unified Device Architecture) technology.
Besides, the K1 chip is 50 times faster than Tegra 2 and can outdo the Xbox 360 and the PlayStation 3, while consuming less power.
Benchmarks suggest that Tegra K1 outscored its predecessor, Tegra 4, and Qualcomm's Snapdragon 801.
The HTC Volantis aka Flounder is 8.91in taller, 5.98in wider and 0.31in thicker and weighs 418g. The LTE model of the device will be 9g heavier than the Wi-Fi model, at 427g.
There will be an eight megapixel camera at the rear end featuring Optical Image Stabilisation (OIS) and a three megapixel camera at the front.
The device will have front-facing stereo speakers. It will be available in 16 and 32GB storage variants.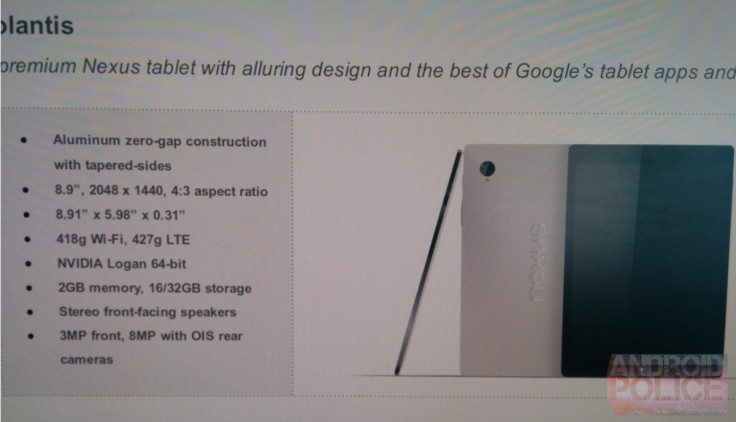 Pricing
The report further suggests the 16GB model of the Nexus 8.9 will cost $399 (£235) and the 32GB variant $499 (£293).
The LTE model will be slightly costlier than the Wi-Fi version, a little more than $600. When compared to the current Nexus 7, the Nexus 8.9 is a bit costlier, as the new tablet offers high-end features. However, the launch price could change. Besides, HTC's Volantis will be launched with official accessories including keyboard case.
Launch
A source close familiar with HTC Volantis has revealed that the device is expected in the fourth quarter of 2014 but there are no details on a specific launch date. A launch at Google's 7<sup>th annual I/O event is unlikely.
© Copyright IBTimes 2023. All rights reserved.