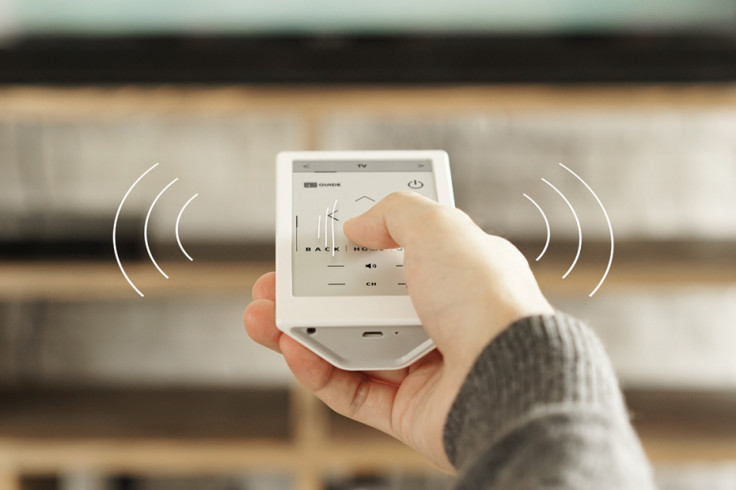 Sony has launched a universal remote control called Huis (pronounced "house"), via its First Flight crowdfunding platform. The device is designed to be customised as per a user's preference.
The Huis – short for Home User Interface – offers unique features such as an e-ink screen that displays buttons needed to operate various digital devices. It can be used to operate and control TV sets, Blue-ray players, air-conditioners, lights and audio systems.
Sony opted for an e-paper display instead of traditional LCD screens as the device operates on a low power mode and buttons can be seen at all times. The Tokyo-headquartered company said that the e-ink display can remain powered on all day long and can last for up to a month after a single charge.Unlike current universal remote controllers available in the market, The Huis does not depend on an app connectivity to connect and operate smart home appliances.
The Huis's display screen can be customised such that only features "most used" when connecting with a device show up on the screen. Users can also download and share additional configuration from the web, onto the remote via its desktop app.
Sony is accepting orders for the Huis in Japan and has priced the device at ¥27,950 ($245, £170). However, the tech giant has said that deliveries for universal remote will begin only in March 2016.
Universal remotes have become a rage off late among consumers, given the convenience and technological abilities to connect to other devices. South Korean firm Samsung is also slated to launch its updated Smart Control hub remote, which will not only operate the tech firm's newly released TVs, but also support the Smart Hub technology.
The remote will automatically identify and control all smart devices, including TVs, video gaming consoles, music systems and kitchen appliances. Once launched, it will be a major contender in the universal remote market.