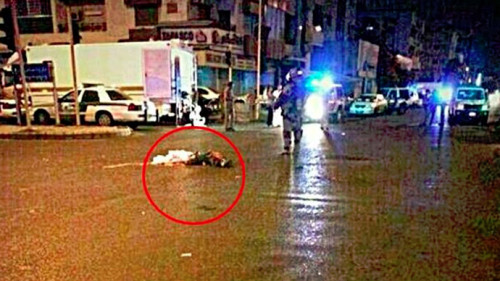 Residents in the Saudi Arabian city of Jeddah were left horrified after they saw human body parts fall from the sky.
Police believed the body parts could have been the remains of a stowaway who became trapped in the airplane's wheel bay.
"Police received a telephone call at 2:30am from a witness reporting the fall of human remains at the intersection of Tadamul Al-Arabi and As-Sahafa streets in Mushrefa neighbourhood," Jeddah police spokesman Nawaf Bin Naser Al-Bouq said.
Police cordoned off the area where the body parts landed. Initial indications suggest the remains "fell from a plane's landing gear," but investigations are ongoing, Boug added.
Police did not comment on whether the incident involving the body parts was related to an emergency landing a Saudi airplane was forced to make on the same night.
The flight, which departed from the Iranian city of Mashhad, was forced to make an emergency landing in Saudi Arabia's Medina following problems with the plane's rear wheel. Twenty nine of the 315 passengers onboard were injured during the landing.
There have been many cases of people attempting to flee their countries by hiding in the landing gears of commercial airlines. Most of them freeze to death when the plane reaches a high enough altitude.
The body of a man was discovered in the landing gear bay of a BA Boeing 747 at Heathrow Airport at the end of a flight from Cape Town.
Police also confirmed a body who fell from the sky and landed on a residential street in south west London on 9 September 2012, was also a stowaway.