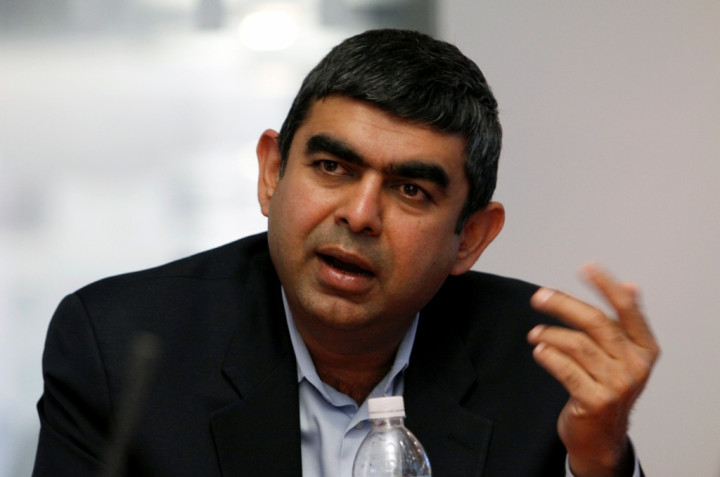 Indian IT major Infosys has named former SAP executive Vishal Sikka as its Chief Executive Officer, the first time it has appointed an outsider for the role, as it attempts to regain lost ground from rivals and stop a staff exodus.
India's second largest IT services exporter also said Executive Chairman N R Narayana Murthy will step down on 14 June, nearly a year after he was brought in from retirement to boost the company's prospects amid stiff competition from low-cost local rivals.
Infosys in a stock market filing on 12 June said its board has approved the dissolution of the chairman's office and that Murthy's son Rohan, brought in as his executive assistant, will also leave on 14 June, the day the firm holds its annual shareholders' meeting in Bangalore.
Executive Vice Chairman S Gopalakrishnan is also set to step down on 14 June.
Infosys' board also promoted its President U B Pravin Rao, tipped as one of the candidates for the CEO's role, as Chief Operating Officer with effect from 14 June.
Murthy will be designated as chairman emeritus from October 11 "in recognition of his contributions to the company", the statement added.
Infosys' stock, the most widely held Indian stock, was trading 0.12% lower to 3175.05 rupees at 13:30 hrs in Mumbai, after gaining some 3.2% in early trade.
Tough Task Ahead
A former executive board member of German business software maker SAP, Sikka, will take control on 1 August from current CEO S D Shibulal.
Shibulal, one of the seven Infosys founders, has expressed his desire to retire on or before his superannuation on 9 January 2015.
Sikka, 47, is a computer scientist by training, reported Reuters. He faces a tough task as Infosys CEO since he will have to fill the leadership vacuum created by the exodus of 11 senior executives, which has fuelled worries about the firm's competitiveness.
Sikka said in a statement: "...We, at Infosys, have a unique opportunity to deliver breakthrough solutions that will bring greater value to our clients, employees, investors and other stakeholders..."
Sarabjit Kour Nangra, VP Research, at Angel Broking, said in a note to clients: "...Sikka will become the first non-founding member CEO of the company established in 1981 by Murthy. The entry of [a] CEO into the company is much awaited news for the company, which has been searching for [a] CEO and has been straddled with the exodus of the key employees. Now with a new CEO, with proven credentials, we believe that the news is positive for the company's growth prospects. We maintain our accumulate with a target price of [INR] 3,640."
The annualised rate of attrition at Infosys - the number of staff leaving or retiring – hovered at a record 18.7% at end-March 2014, 2.4 percentage points higher than a year ago.
The rate accounts for some 20% of Infosys' workforce of more than 160,000.