More than 400 Nigerians have been flown out of Libya following reports thousands of African migrants are being sold into slavery in the lawless country.
Firstly a group of 144 landed at the Murtala Muhammed International Airport in Lagos, followed by a second plane carrying 257.
The latest batch of a returning migrants arrived after Nigerian president Muhammadu Buhari promised he "will do everything" to protect Nigerian citizens in the wake of the "appalling and unacceptable" reports of a migrant slave trade in Libya. Hundreds of Nigerians have already been flown back from Libya in recent days.
Speaking to local media, one of the latest Nigerians to have returned described how he was put in a dark room for four months and only fed one meal a day while being held in Libya.
The man, referred to only as Henry, told the Guardian and Mail: "If I even find myself in a dream in Libya, I will kill myself. I cannot go back."
He added: "They threatened me and said I would not come out alive. I was tied with iron wires and they beat me mercilessly. Until now, I do not have control of my right hand due to the tribulations there."
Libya's UN-backed government has said it is investigating reports that caused shock around the world that African migrants attempting to across into Europe have been captured and sold as slave in Libya after being smuggled across the Sahara.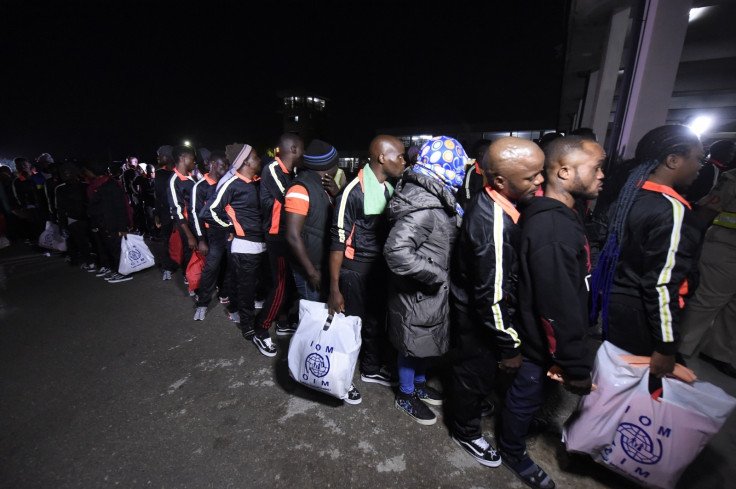 The allegations were previously condemned by the UN Security Council as a possible crime against humanity.
In a statement, the council added: "The Security Council expresses grave concern about reports of migrants being sold into slavery in Libya. [It] condemns such actions as heinous abuses of human rights which may also amount to crimes against humanity."
According to the UN International Organization for Migration, there could be as many as 20,000 migrants being held captive in detention centres in Libya.
"Reports that people escaping violence are being sold into slavery in Libya are horrifying," US Ambassador to the United Nations, Nikki Haley, said in a statement. "All countries must do everything they can to end this barbaric practice."