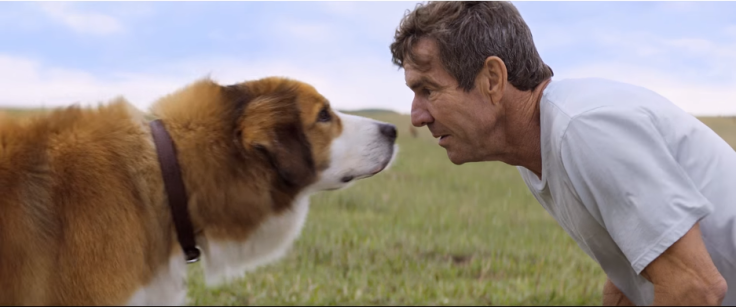 Dennis Quiad has spoken up in defence of the cast and crew of his latest film A Dog's Purpose after claims arose that the animals being used in the film were abused. "I was there. I never saw any abuse of any animal. If there had been, I would have walked," Quaid told ET on 23 January.
Peta has called on audiences to boycott the film after videos surfaced showing one of the dogs being forced into running water against its will. Another dog had to be rescued from the simulated waves by a handler.
"My experience is that the animals were treated great. There was no animal abuse," the 62-year-old explained. "That video that someone took and sold for money and held on to for a year and a half until right before the film's coming out, does not tell the whole story. First of all, it's been edited and manipulated. And I think it's a scam, to tell you the truth."
The Day After Tomorrow star said that the dog's behaviour was more indicative of being tired rather than mistreated. "That was towards the end of the day and I would not say, in real context, that the dog was frightened. The dog was acting like a dog who was kind of tired of taking a bath and was ready to get out. And, in fact, that's what happened. They took the dog out," he added.
The film's producer, Gavin Polone echoed similar ideas in his op-ed piece published in The Hollywood Reporter. "Like you, I'm sure, I was appalled when I saw the video, shot on the set of A Dog's Purpose in Winnipeg in October 2015, of a dog trainer trying to coerce a frightened German Shepard into a pool," he wrote.
"Love of animals defines my existence, and that love is what drove me to struggle for years to get Bruce Cameron's brilliant and widely cherished novel about the bond between a person and a dog made into a movie.
"Not once did I perceive any animal caused any discomfort or put in danger — and I am very aware what a distressed dog or cat is like," he continued. "Seeing that distraught dog in the video did not comport with what I had observed in the prior weeks of production." Polone however acknowledged that the incidents in the videos "inexcusable".